Best Kitesurfing Destinations for Your Kite Vacation in 2023
Kitesurfing is a thrilling and exciting sport that has gained popularity in recent years. The sport is enjoyed by people of all ages and skill levels and is a great way to explore new places, enjoy the outdoors, and have an adventure. If you're looking to plan a kitesurfing vacation this year, there are many destinations around the world that offer ideal conditions for the sport. From the Caribbean to Italy, from Hawaii to Australia, each location offers a unique experience, with different wind and weather conditions, and different wind and beaches. Whether you're a beginner looking to learn the sport or an experienced rider looking for a challenge, there's a kitesurfing destination that will suit your needs. In this article, we'll take a look at some of the best kitesurfing vacation locations for 2023, highlighting the top spots, kite camps and courses and what each location has to offer.
Mauritius
Season: Year round, best: Apr – Dec
Mauritius is a tropical island nation located in the Indian Ocean, with beautiful white beaches, clear waters, mountains, and diverse culture. The warm waters and steady winds pretty much year-round make Mauritius a great spot for kitesurfing, windsurfing, and other water sports.
Some of the most popular kite beaches include Le Morne, Pointe D′Esny, and Anse La Raie and you can find accommodation really close to the spots. For kite classes and a kite camp you're best off around Le Morne (Check this kite camp for beginners, or kite classes in Le Morne) and Bel Hombre, with 10-hours kite course for around 450€.
When wishing for a kite break – several nature reserves and mountains offer great hiking areas, including Black River Gorges National Park and Le Morne Brabant. The coral reefs around Mauritius offer great diving and snorkeling opportunities, with many species of fish and coral.
Mauritius has a tropical and warm climate all year round, the best time to visit would be during the winter months (May to October) when the weather is dry and pleasant.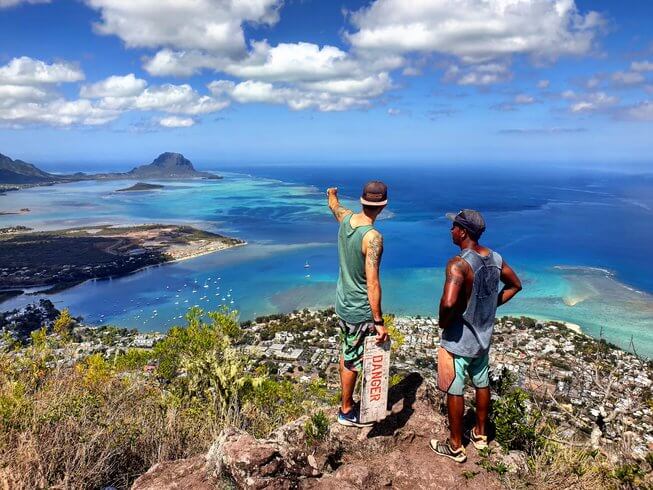 Fuerteventura, Canary Islands
Season: Year round, best: Mar – Sep
Fuerteventura is one of the Canary Islands, located in the Atlantic Ocean, off the coast of Africa. It's known for its beautiful beaches, clear waters, and excellent wind and wave conditions, making it a popular destination for water sports like kitesurfing and windsurfing all year round. The island is windy year round – its name in Spanish translates to "Strong Wind", but the wind is stronger and more reliable during the Summer months.
Some of the most popular beaches for kitesurfing and windsurfing include Sotavento (big lagoon), Corralejo (Flag Beach), and El Cotillo. Sotavento is a famous kite- and windsurfing lagoon, but watch out – the lagoon gets full only during the full moon and black moon weeks! If you want some more ammenities, you're best off to look for accommodation in Corralejo.
There is plenty of kite schools in the area – 3-day course for around 400€ or even kite camps (comes with accommodation) such as by Red Shark Fuerteventura, a week with CBCM Border Club, Line up Fuerteventra or you can even combine kitesurfing classes with some spanish with Spanish and Surf
Besides water sports, the island is a popular destination for cyclists, too. There are hiking trails, especially around Betancuria Natural Park and the Jandia Natural Park. Besides that, the vibes are pretty chill except for tourist spots, lots of beaches, and deserted landscapes!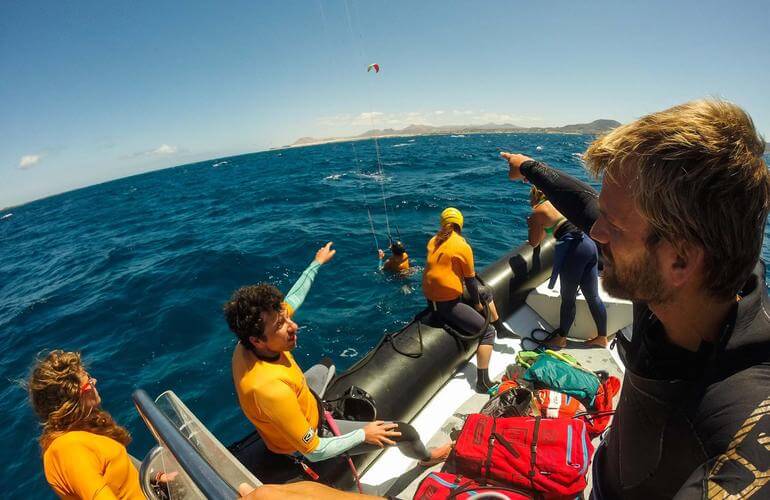 Guadeloupe
Season: Year round, best Dec – Jul
Guadeloupe is an archipelago located in the Caribbean, and a French region, mostly famous of brown sugar and quality rum, emerald waters, and sandy beaches in three colors – gold, white and black. Like all Caribbean area, it has great wind suitable for kitesurfing pretty much year-round.
Some of the most popular beaches for kitesurfing include Anse Bertrand, Saint-Francois, and Bois Jolan. The island's steady trade winds and warm waters make it a great spot for kitesurfing, with many kitesurfing schools and rental shops available to provide equipment and lessons, and accomodation close to the spot.
Enjoy half or full day downwind trip among southern coast, and there are kitesurfing course available in Les Saintes, as also in Sainte-Anne kite course.
While there, you should visit Guadeloupe National Park and the La Soufrière volcano and dive.
Guadeloupe has a tropical climate all year round, the best time to visit for kitesurfing is during the winter months (December to April) and northeast trade wind.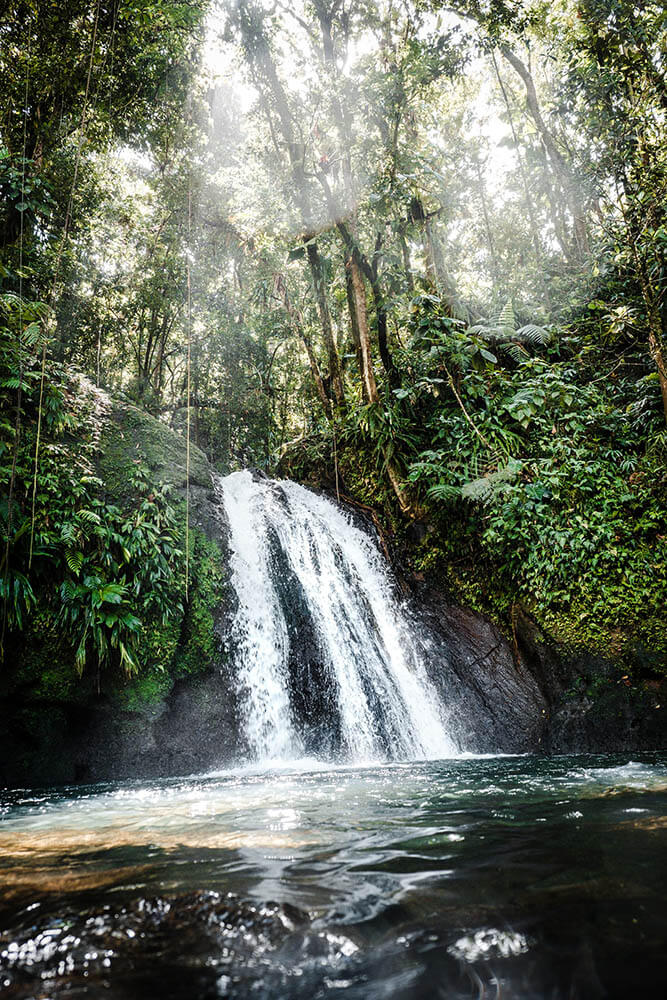 Máncora, Peru
Season: May – Dec
Máncora is a small coastal town located in the Piura region of Peru. If you're looking for white sandy beaches in a tropical paradise, Peru is *not* that – but don't worry it has a lot to offer for a kitesurfing vacation.
Organos (good for beginners and free-ride), Ñuro, Punta are the main spots beside Máncora. The area has a great potential for downwind and many wave spots. It is also a popular destination for surfing, with many different breaks suitable for all levels of surfers and famous worldwide.
If you're an experienced kiter and would like to learn to ride the waves, join the wave clinic in el Ñuro or beginners kite camp in Máncora or Yoga & Kite vacation.
Máncora offers quite some nightlife, many beachside bars, and restaurants where you can enjoy local seafood and drinks and plenty of accommodation options. There are many smaller villages nearby if you're looking for something more private.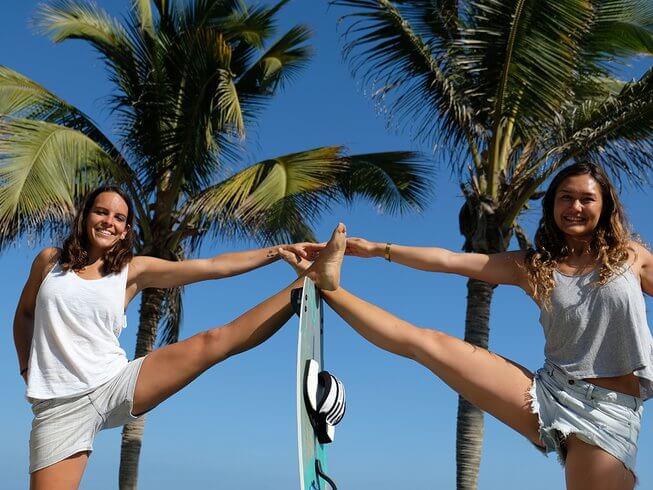 Sakalava Bay, Madagascar
Season: May – Oct
Madagascar is an island nation located off the coast of Africa, with diverse wildlife, natural beauty, and excellent wind – a great destination for kitesurfing vacations off the beaten track.
Madagascar is not a very developed tourism destination, so if you're organizing a trip by yourself, do some research to know where you're going. If you're an adventurous type you'll definitely enjoy it!
There are kite resorts, and kite schools (and rental) in Sakalava Bay and Île Sante-Marie (which are also the most popular kitesurfing location), so you won't feel like a complete pioneer.
It is also a good place to learn to kite, with kite-lessons starting with 40€/h or full beginners kite course. You can also rent a kite equipment for a few days if you prefer to stop by for a few days. You can stay directly on the spot at Ocean Lodge or Royal Sakalava.
Madagascar is also known for its unique and diverse wildlife, – lemurs, chameleons, flying-foxes, and a home to numerous endemic plants.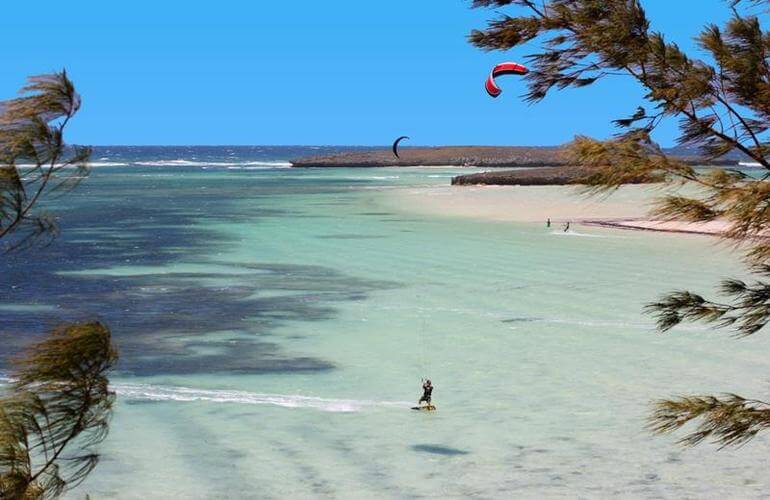 Sicily, Italy
Season: Apr – Sep
Sicily has been a popular kitesurfing destination in the Mediterranean, so you'll definitely meet a lot of new kite buddies.
Some popular kitesurfing spots in Sicily include Marsala/Stagnone, Pozzallo, and Capo Gallo (Palermo). These spots offer a wide range of conditions, from flat water to waves, and are suitable for all levels of riders. Sicily is also a popular destination for surfing.
Choose Yoga & Kite Camp in Marsala, or a 10 hours beginners kite-course (around 500€) for your best kite vacation. There is a lot of accommodations for all budgets really close to the kite lagoon.
Sicily is an island with rich and unique culture, history and traditions, with many ancient ruins, towns, and cities to visit – you should definitely visit Palermo, Catania, and Syracuse.
It is true that Italian cuisine is the best in the world, you'll taste many delicious seafood dishes, pasta and pizza, as well as local caponata and arancini.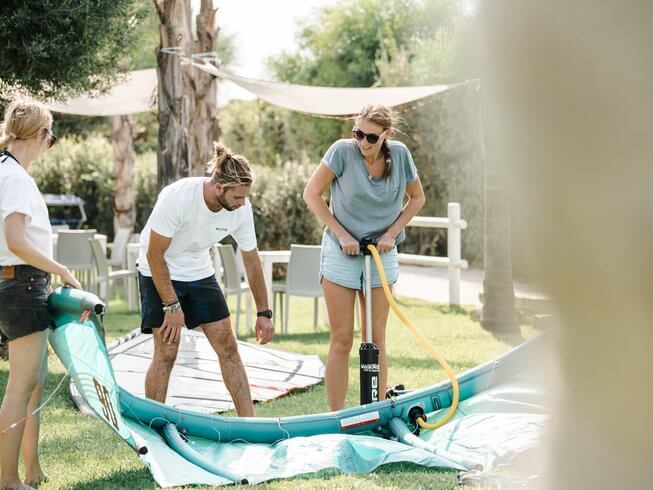 Zanzibar, Tanzania
Season: Jan-Feb, Jun-Sep
Zanzibar is an island off the coast of Tanzania in East Africa. It has two wind seasons; the main one is from June – September (also a dry season), and the short winter season in January and February (second dry season).
Popular kite spots in Zanzibar are Paje and Jambian, and are suitable for all levels of riders. The island is rich in marine and wildlife as also cultural heritage. Besides kitesurfing, you should also visit Stone Town, the capital of the island, and the Jozani Forest Reserve, or even join a cooking class.
Join a kite camp in Zanzibar or Beginners kite camp and enjoy kiting in a dream location. There is plenty of different accommodation in the area, from beach huts to villas that suit all budget and tastes.
Zanzibar offers delicious local cuisine, including Zanzibar pizza, numerous octopus dishes, Mandazi, and coffee.
Tahiti & Bora Bora, French Polynesia
Season: year-round, May-Oct, Dec-Feb
With more than 300 windy days, you're welcome anytime! When there is "no wind", you can still take out a big foil kite as there is always some breeze!
Bora Bora and Tahiti are exotic and unique kitesurfing destinations that you won't regret visiting. You can try wing and foil in Tahiti on a day(s) with light wind, or do the Tahiti downwind trip or Wing-foil in Bora Bora or the Kite course if you're new to the sport.
Accommodation on Bora Bora or Tahiti (Papeete) are not the cheapest as you might know 🙂
Snorkeling, sailing and a downwind kite safari on turquoise waters like nowhere else and numerous waterfalls in the inner part of the island – a real paradise. Local cuisine is a delicious blend of Polynesian and French flavors; with fish, seafood, meat, root vegetables and coconut.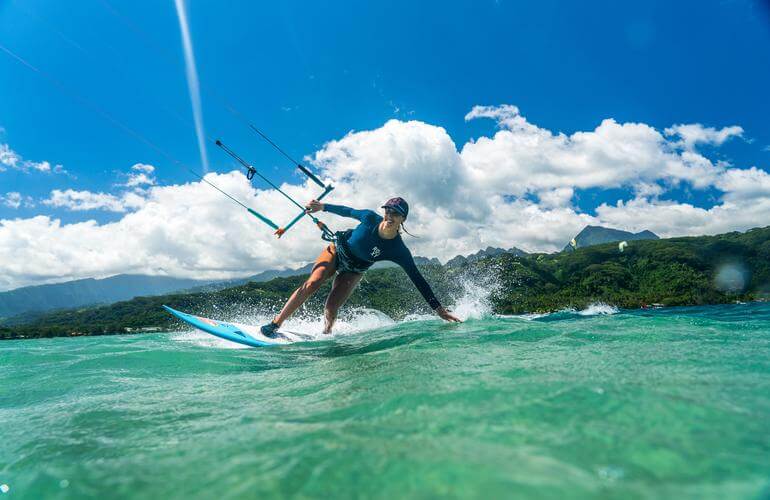 Caribbean Coast of Colombia
Season: Dec – Jun
When all the crowds head to Brazil to kitesurf, opt in to go to Colombia instead. Kitesurfing is gaining popularity along the northern coast and new spots, places, and kite schools keep on popping up. For now, it is still vastly undiscovered by the crowds, but the "pioneers" are already there.
Popular spots to kite are Salinas del Rey (Barranquilla), Las Americas – Cartagena. You can find flat lagoons and great waves!
Join a kite camp in Mayapo/Punta Gallinas, learn strapless kitesurfing in Santa Veronica or Kite and Surf Camp in Baranqilla. Baranquilla and Cartagena offers plenty of accomodation for different budgets, if you decide not to join the kite camps.
If you happen to be there during a carnival time (late April) a visit to Barranquilla Carnival is a must!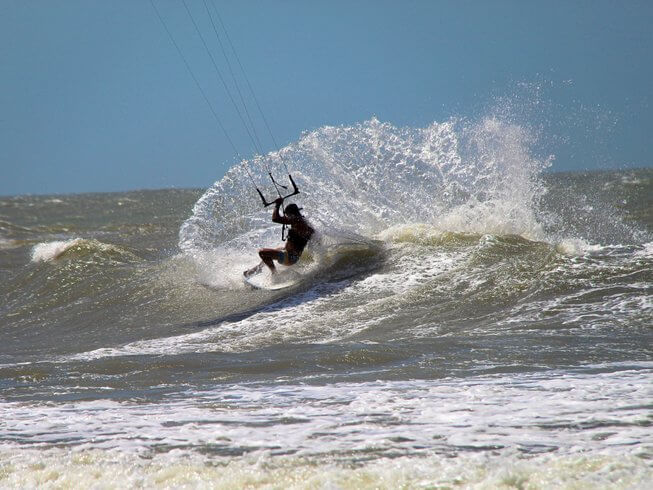 Can't decide where to go? Check our Kite Camps to find your kite vacation or Best Kite Places for 2022. To be safe on your kite vacation, don't forget about travel insurance that covers a kitesurfing activity.
Be sure to travel abroad with a travel/medical insurance that covers kitesurfing activity. More →