Open 7:00 AM to Sunset.
No fee to get in the park
Bathrooms, running water, pavilions with picnic tables and grills. Volleyball.
See rays, sharks, tarpon, bonefish, bait fish, and ospreys.
Not a popular kiting beach due to the small range for wind directions and a small beach with various obstacles. It is a nice manmade beach that can get crowded on the weekends and holidays. It is best to edge out near the little island with a house and windmill. There are some good spots out here for riding the flats.
Wind directions: SW to SSE.
Sombrero Beach is a gourgous park and beach. The City redeveloped Sombrero Beach in 2001 to include total handicap accessibility. A sandy beach on the Atlantic Ocean holds a shady park with picnic pavilions, volleyball courts, restrooms and showers.
Sombrero Beach is a turtle nesting beach from April through October. Often Loggerhead Turtles (primarily) will come to the beach at night to lay their eggs. During this period the tables and benches are removed from the beach so they do not interfere with turtle nesting activities.
Dangers
Booties or foot protection are not necessary but recommended for beginners due to some sharp rocks and scattered longspinned urchins. Use caution in this are beacause this is not a very good launch area. There is a large rocky area near a busy traffic way for boats leaving the canals at the end of beach. There area many obstacles such as trees and people in the launch area.
It is your responsability to check whether kitesurfing is allowed at the spot; you might need a 'special permit' or membership from a local kite organization, etc. Local rules can change. Respect others - kiters or not; kite safely and enjoy the wind!
Jan
Feb
Mar
Apr
May
Jun
Jul
Aug
Sep
Oct
Nov
Dec
Windy days*:
20
18
22
20
15
11
10
8
10
16
19
19
Wind Direction:

No data available.
Av. Wind Speed (knts):
8
8
9
8
8
7
7
6
7
8
9
8
Av. Temperature:
20
20
22
24
26
28
28
29
28
26
23
21
* with min. 4 bft (12 knt) wind, without thermal wind stats
Spot Photos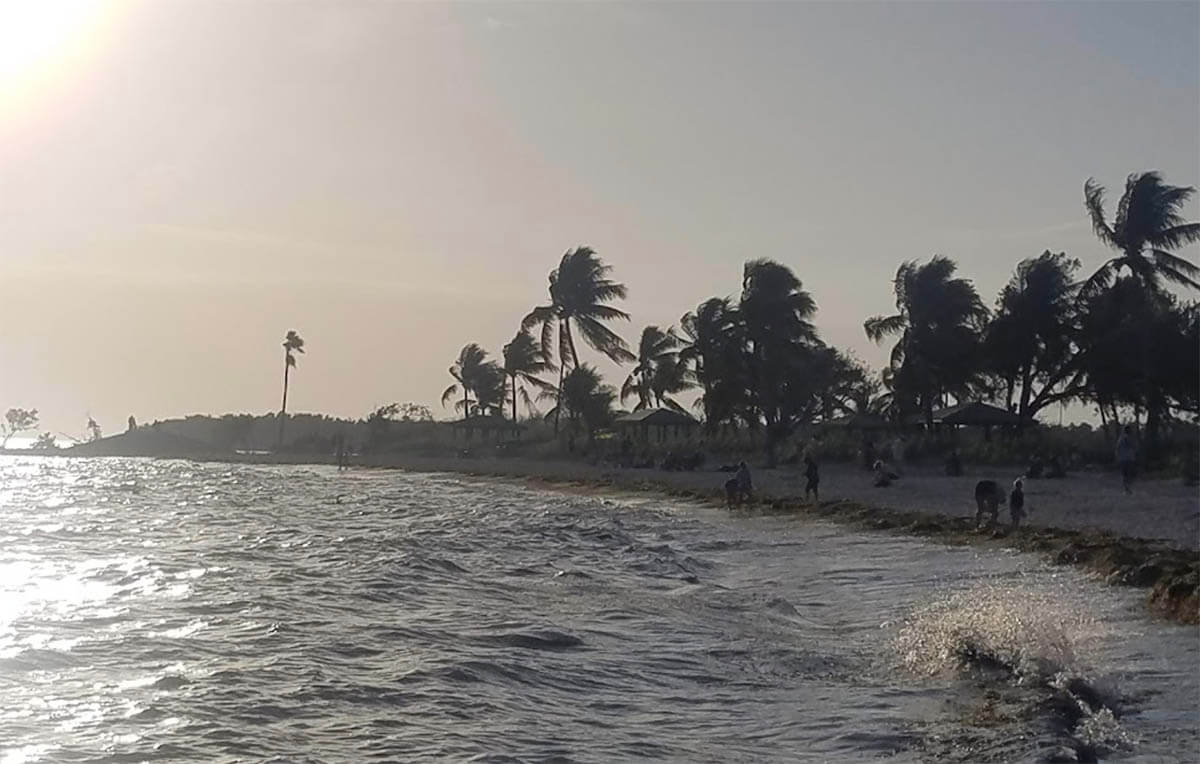 Kitesurf Packages
Don't see your offer here? Add your kite school!
Kite Schools, Gear Rental & Repair
Nearby Accommodation
Location
Insurance
Be sure to travel abroad with a travel/medical insurance that covers kitesurfing activity. More →