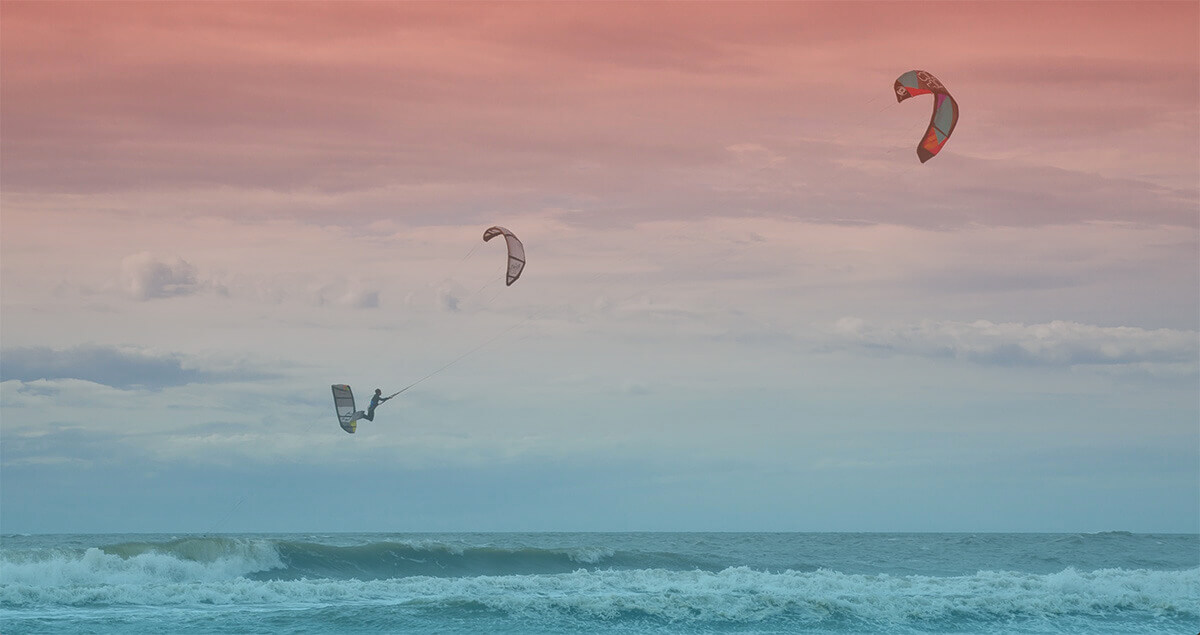 The Purdy spit (alias Henderson Bay) is across the Narrows bridge from Tacoma and north about 10 miles. This site has a natural topography favoring SW post frontal or clearing winds. It's a pretty safe place to kite. If you end up being blown downwind you will end up at the end of the bay instead of "out to sea". The lauch is simailar to Richmond Beach with a mixture of sand and rocks. At low tide there is a lot of room and the bay is quite shallow for a ways out making for a good body dragging location. At hight tide the road and power lines are closer to the launch so be carefull!
Purdy light's up when clearing begins and the post frontal SWesterlies kick in. We used to say that if you have two millibars or more between at least two of the following: Forks-Seattle, Portland-Seattle and Astoria-Seattle, Purdy would be blowing. Though that is not always true it does seem to be pretty accurate. It is most fun on an outgoing tide, which opposes the wind and often has sunshine to go with the clearing. Purdy is sometimes a sneaker place, which blows when not much else is going. It can also tease and disappoint you.
This is the place to be (or the Straits; Cline Spit, North Beach, or Ediz Hook) when the dreaded convergence zone sets in over Seattle area sites.
Purdy usually blows if there is a 2 millibar (.06″) or greater westerly gradient between Bremerton and at least two to the following: Forks, Hoquiam, Astoria and Portland. Westerly winds blow in from the coast and excellerate as they make their way around the Olympic Mountains. West winds and southwest "clearing winds" are what you want to make the Purdy Spit work. Sweet spot! Thanks, Evanne Howard for contributing your knowledge. You ARE the Queen of Purdy!
Refer to Puget Sound and Hood canal portion of the Marine Forecast for the forecast and Weather Roundup for exisitng gradients.
Best Wind Direction(s) South Westerlies
DIRECTIONS From I-5 southbound make your way though Tacoma. At the Tacoma Mall exit (38th Street/Hwy 16) vear off to the right hand lane. You will cross the Narrows bridge in about 5 miles. Head north about 10 miles to the Wauna exit and go right. Follow under the overpass and down the hill to the little town. Take a left at the stop light and travel 1 mile over the bridge to the little post office. You are there!
It is your responsability to check whether kitesurfing is allowed at the spot; you might need a 'special permit' or membership from a local kite organization, etc. Local rules can change. Respect others - kiters or not; kite safely and enjoy the wind!
Jan
Feb
Mar
Apr
May
Jun
Jul
Aug
Sep
Oct
Nov
Dec
Windy days*:
12
12
14
11
6
2
0
0
1
6
11
11
Wind Direction:

No data available.
Av. Wind Speed (knts):
7
7
7
6
4
4
3
3
3
4
6
6
Av. Temperature:
6
7
9
11
15
17
110
20
18
13
8
6
* with min. 4 bft (12 knt) wind, without thermal wind stats
Spot Photos
Kitesurf Packages
Don't see your offer here? Add your kite school!
Kite Schools, Gear Rental & Repair
Nearby Accommodation
Location
Insurance
Be sure to travel abroad with a travel/medical insurance that covers kitesurfing activity.More →