Supposed to be sweet flat water, but watch out for logs.
We are currently in the development stages of a short, medium and long term plan for safe access for kiteboarding at the Lyle Sandbar. This launch is faced with MANY additional issues above and beyond what we have overcome at both Hood River and Stevenson. We hope the kiteboarding community can be patient while we put plans in place to do the right thing for all parties involved. We may in the near future make a request for help from the kiteboarding community for a beach cleanup.
In the meantime the CGKA requests that all kiteboarders visiting the Lyle sandbar follow a few simple guidelines:
1) Parking: Park your vehicle on the North side of highway 14 in the
gravel parking lot. The rail road personnel need access to the path leading down to the tracks. They have been known to bring very large vehicles down that pathway and it is not appropriate to park on the side of the pathway. By law, cars must be parked further than 50 feet from tracks.
Please do not park along the side of the road as it's for emergency parking as well. It is dangerous and distracting to other drivers and will only cause issues. If the parking lot is full, try your best to find an alternative place to park.
2) It is illegal to cross the railroad tracks and you are subject to ticket or arrest. CGKA does not condone this activity. Because we have no alternative solution at this point, if you feel you must do so – please do it without attracting any attention and look and listen before you place yourself in danger or make a train conductor angry. Be invisible, don't attract attention. Need we say more?
Thank you for your support!
It is your responsability to check whether kitesurfing is allowed at the spot; you might need a 'special permit' or membership from a local kite organization, etc. Local rules can change. Respect others - kiters or not; kite safely and enjoy the wind!
Jan
Feb
Mar
Apr
May
Jun
Jul
Aug
Sep
Oct
Nov
Dec
Windy days*:
10
10
17
20
19
19
15
14
11
10
10
9
Wind Direction:

No data available.
Av. Wind Speed (knts):
7
7
7
8
7
7
6
5
5
5
6
6
Av. Temperature:
6
7
10
13
16
19
23
23
20
15
9
5
* with min. 4 bft (12 knt) wind, without thermal wind stats
Spot Photos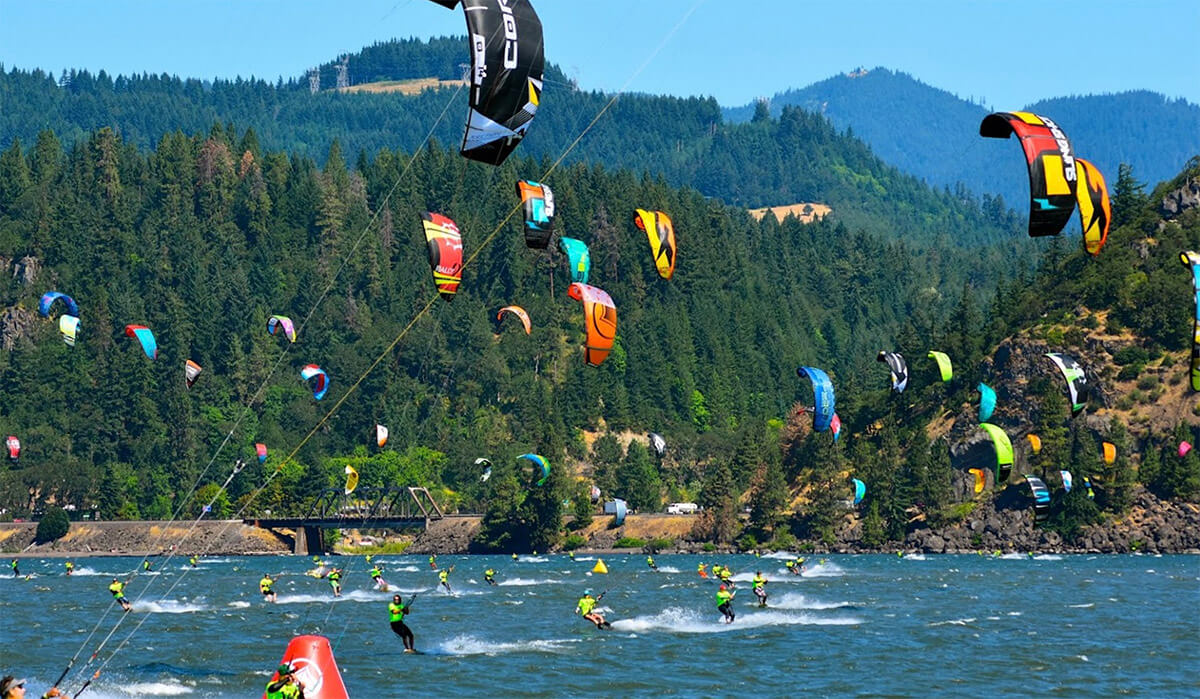 Kitesurf Packages
Don't see your offer here? Add your kite school!
Kite Schools, Gear Rental & Repair
Nearby Accommodation
Location
Insurance
Be sure to travel abroad with a travel/medical insurance that covers kitesurfing activity. More →