For the uninformed and the interested, Kalama is a small town about 35-40 minutes drive up I-5 from Portland (30 minutes from the first I-5 exit in Vancouver). Obviously if you are on the Portland side of the river you would have a rough time getting through to Vancouver during rush hour, but those of us on the Washington side or Portlanders close to I-205 could get up there in no time at all and there is essentially never any traffic.
Today:
I got on the water about 5:30 PM and rode until about 7:30; the wind was still strong but I was starving and decided to head in. I went out on my 14 and TT but was greatly overpowered with full depower on the kite – when I went out into the shipping channel where the wind is stronger I would get lofted 50% of the time when a gust came through. I probably should have put up my 9m to be honest, but I'm not used to being able to ride a smaller kite at Kalama. For reference, I weigh ~195lbs.
Wind Prediction:
Wind is not the easiest to predict ahead of time (for me), but the indicators are a prediction along the lines of "Northwest wind 6 to 13 mph" for Kelso or Kalama on weather.gov, and nice sunny day in Portland. It's very similar to Sauvies in the days that it goes off, but it might actually go off more often (if using 12-14m kites). On 12-14m sauvies days I'm guessing it's 9-10-11m kite size at Kalama – I can't say for sure because I've never gone to Sauvie's on a weekday. Today there were white caps throughout the river, starting around 2:00 pm.
Today the tide had just finished going out, (low tide in Longview was at 5:15pm) and was heading back in, so there wasn't an extra boost from the tide going out with the current. See the windonthewater.com screenshot for the wind sensor readings today. Note that the sensor there is not right on the river and that the wind gets very fluky the farther you go from shore. River wind speed is closer to the gusts on the sensor in the screenshot.
I would probably be better at predicting wind at Kalama if not for the fact that I work right next to the river and there are windsocks and flags right outside my office. And I can see the park and river area from a 50ft vantage point. If you are interested in heading out there M-F feel free to shoot me a PM and ask for my take on the wind.
Wind quality: The more North the wind is the more consistent and less gusty it is. Today was pretty good, it gets more gusty towards shore and smooths out and strengthens (3-4 mph probably) as you go into the shipping channel, much like the wind at Jones in nuclear alley. The wind is also not as onshore as at Jones, and is pretty close to parallel with the shoreline. This does make going upwind in either direction (relative to the shoreline) very easy, however.
Water quality:
The water was surprisingly less choppy than I'm used to seeing at Jones and HR. I don't know why that is, it could be that the big island to the west of the launch breaks the wind near the surface of the water enough to prevent the super-chop that you see at Jones on the Oregon side of the river. The water wasn't glass by any means but it was… not bad. You can always chase the large ships going towards Portland and ride in the flat wake area.
The current is strong, I'd say its similar to Hood River from watching things float by. The current is still very prevalent right next to shore, though, so it doesn't have the easy board retrieval that Jones has when close to the Oregon shore.
Launch/landing site: There are a few ways you could approach this launch, but the way I do it and the way I've seen a few other people do it is by launching off the grass between the two walking paths. Wait for passersby, obviously, as I'd prefer to keep this site a viable kite location. If you can't self launch a kite or have poor kite control I would not try kiting here without a friend to help launch and land. On the other hand, there is a con
It is your responsability to check whether kitesurfing is allowed at the spot; you might need a 'special permit' or membership from a local kite organization, etc. Local rules can change. Respect others - kiters or not; kite safely and enjoy the wind!
Jan
Feb
Mar
Apr
May
Jun
Jul
Aug
Sep
Oct
Nov
Dec
Windy days*:
9
9
11
10
6
2
1
0
1
3
8
9
Wind Direction:

No data available.
Av. Wind Speed (knts):
7
6
6
5
5
4
4
4
4
4
5
7
Av. Temperature:
6
7
10
12
15
17
21
21
19
14
9
6
* with min. 4 bft (12 knt) wind, without thermal wind stats
Spot Photos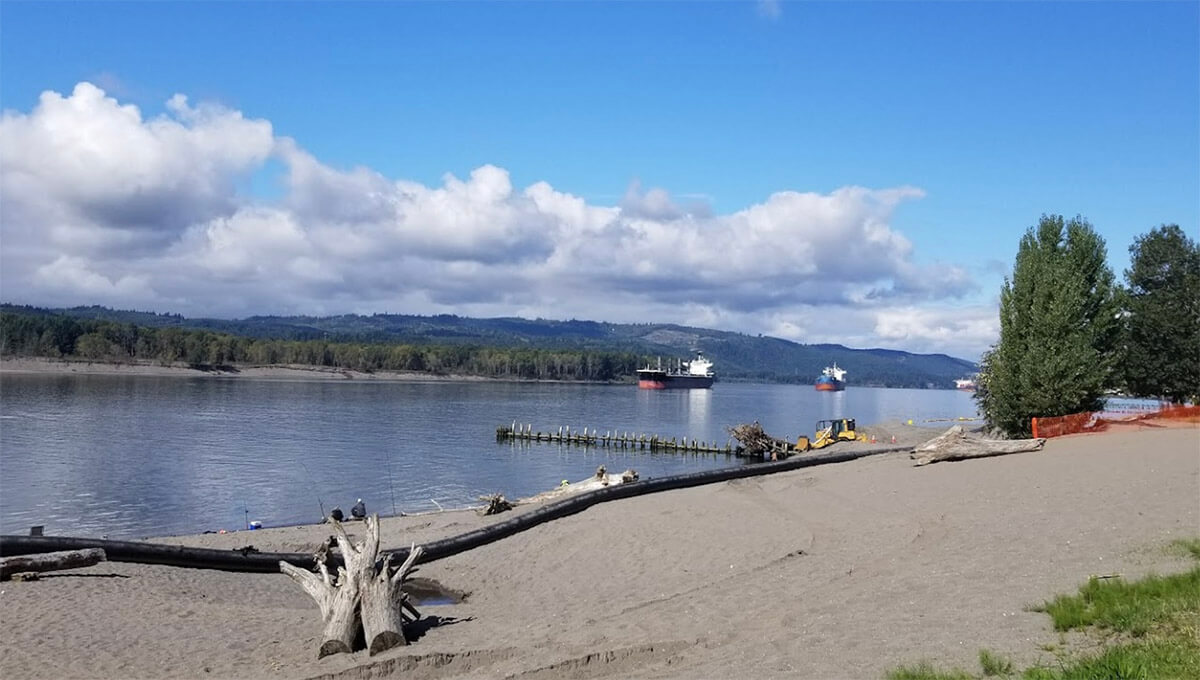 Kitesurf Packages
Don't see your offer here? Add your kite school!
Kite Schools, Gear Rental & Repair
Nearby Accommodation
Location
Insurance
Be sure to travel abroad with a travel/medical insurance that covers kitesurfing activity.More →