Best wind direction: NW
Conditions:
Jetty Island is, in a word, steady! During the months of June – August, Jetty typically blows with afternoon NW thermals beginning between 2-7 pm and can last anywhere from an hour to several hours into the dark. It is a light side-onshore wind so kiters are usually on 14-18m kites, although a few days in the season it may blow 12m. Smaller riders will usually be on 12m kites.
Water:
Jetty Island sits in Port Gardner bay which, due to the inlet of the Snohomish River, is a large tidal flat. On low tides there are literally 100's of yards of beach between the island and the water's edge. This flat bottom contour creates very smooth water and nice pealing waves on low tides. Common water conditions at Jetty can be very flat on the lighter 16m days and, depending on the tide, rolling swell around 3 feet as the wind picks up. Because the water is so shallow here the temperature is several degrees warmer than the rest of the Sound. On a tide 9 ft and below there will be waist deep water for a long ways out and it can heat up to almost 75 degrees on an incoming tide. Some kiters ride with only shorts, but at least a shorty is recommended as the outer waters are still in the 50s. Small chop is common on the surface and currents don't affect the riding area.
Rig & Launch:
Kayakers should dock their vessels in the designated grass area about 50 m north of the Jetty side boat dock. Remember we have high tide swings. Don't leave your kayak in the tidal zone. Walk on the path to the west side of the island and then up to the far northern sandy area – above the "Kiteboarding Zone" sign if it is present. This is the best rigging area because it is farthest away from the many beachgoers and children. Rig your gear either on the sand beach (when tide allows) or up on the small sand hill. There will be many other kiters there so self-launching is not usually necessary.
Dangers
Warnings:
In the summer Jetty becomes a very busy beach full of kiters and beachgoers. Please be extremely courteous to all as we do not want to lose access to this incredible location. Do not put your kite over, kite close to or kite through ANY swimmers in the water. Stay as far north as possible at all times unless you are a long ways out from the beach. There is a "Kiteboarding Zone" free-standing sign that is now in use. Please stay north of that sign. Many spectators come over to Jetty Island just to watch us kite but the majority of them are there to spend time with their children, letting them play in the sand and swim. During the summer the Everett Parks Dept hosts educational shows and events for the kids giving talks and tours of the island and its wildlife. The wind can sometimes be onshore and when the tide is high up to the logs it makes launching and landing a bit trickier. The Coast Guard and Sheriff's Dept are vigilant about preventing drownings. Your water craft is likely to be inspected. The river crossing to Jetty is cold and deep and the current can be swift. It is the law for kayakers to have and wear their life jackets ($100 fine). Free loaner jackets are available on the north end of the launch. A whistle is also required as is a light for night kayaking. Dogs are not allowed on the island because it is a bird refuge and alcohol is strictly prohibited with a $1000 fine. Be aware that Jetty has no shade or shelter so bring plenty of water and wear sunscreen. Help keep Jetty Island clean! Please use the trash cans.
It is your responsability to check whether kitesurfing is allowed at the spot; you might need a 'special permit' or membership from a local kite organization, etc. Local rules can change. Respect others - kiters or not; kite safely and enjoy the wind!
Jan

Feb

Mar

Apr

May

Jun

Jul

Aug

Sep

Oct

Nov

Dec
Wind Direction:

No data available.
Av. Wind Speed (kt):
6
5
5
5
4
3
3
3
3
4
5
6
Av. Temperature:
5
6
8
11
14
16
19
19
17
12
7
4
* with min. 4 bft (12 knt) wind, without thermal wind stats
Spot Photos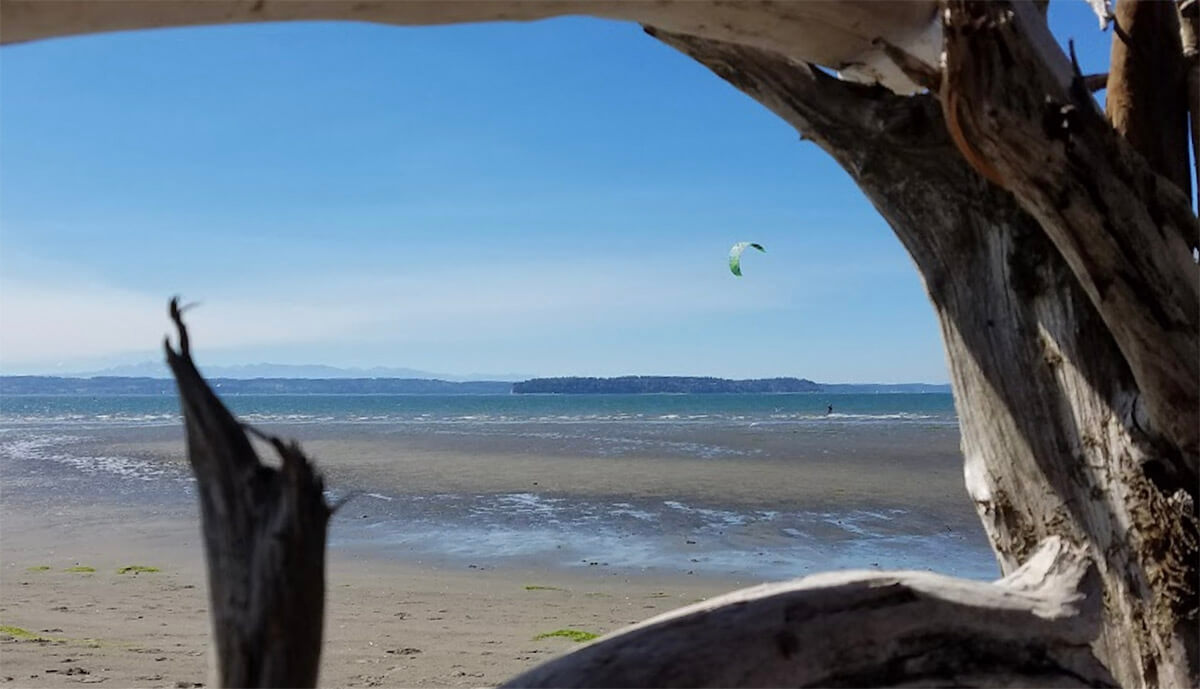 Kitesurf Vacation
We don't have any kite offers for this area, check Kite Vacations →
Kite Schools, Gear Rental & Repair
Nearby Accommodation
Location
Insurance
Be sure to travel abroad with a travel/medical insurance that covers kitesurfing activity. More →