Location: Fiesta Key is right at Mile Marker 70 in Long Key, FL, bay side. It is a Morgan RV Resort with camp sites, RV sites, motel rooms, and cottages. The restaurant, pool and hot tubs are right on the water providing you an audience to perform in front of if you want one. While you are kiteboarding the non kiters in your group can enjoy the restaurant, pool, and hot tubs if they like. You do not have to be staying at the resort use the pool, you can buy a daily $10.00 guest pass if you would like to enjoy those amenities.
The Launch: There are multiple places to shore launch at Fiesta Key. There is no real beach and there is a small coral wall around the whole island. On the outside of the coral wall is shallow water that sometimes has a muddy bottom. Florida Keys Kiteboarding will have somebody there on busy days to help and to monitor shore launching and landing for safety. There are multiple grass flats around Fiesta Key making lots of areas for calm smooth water to ride on. You can also launch from a boat on the grass flats. Florida Keys Kiteboarding can take you out there if needed or if you bring your own boat, there is a boat ramp in the marina. Stop at the water sports shack to talk with Florida Keys Kiteboarding and they will help you out any way they can. This is a great Resort with a huge wind direction window to kiteboard in. It looks like Fiesta Key will be a premier place to kiteboard during North winds in The Florida Keys. Specially since there are hot tubs for those cold front days!!!!!
High temperatures typically stay around the 80's. The wintertime comes with highs in the 70's with temperatures at dropping down into the 50's through winter nights.
Wind
Wind directions: E to N to SW. Because of the many grass flats North of Fiesta Key we can ride in 360 degrees of wind. If you can't make it out to the grass flats Anne's beach is only 5 minutes away by car and accommodates your South winds.
Dangers
Booties or foot protection are not necessary but recommended for beginners. A couple of the grass flats can get pretty shallow so be careful during low tides.
It is your responsability to check whether kitesurfing is allowed at the spot; you might need a 'special permit' or membership from a local kite organization, etc. Local rules can change. Respect others - kiters or not; kite safely and enjoy the wind!
Accommodation
Campground
Camper friendly
Jan

Feb

Mar

Apr

May

Jun

Jul

Aug

Sep

Oct

Nov

Dec
Windy days*:
23
20
24
22
20
16
14
13
16
20
23
23
Wind Direction:

No data available.
Av. Wind Speed (kt):
10
10
10
10
9
8
8
8
8
10
11
10
Av. Temperature:
20
21
22
24
26
28
28
29
28
26
23
21
* with min. 4 bft (12 knt) wind, without thermal wind stats
Spot Photos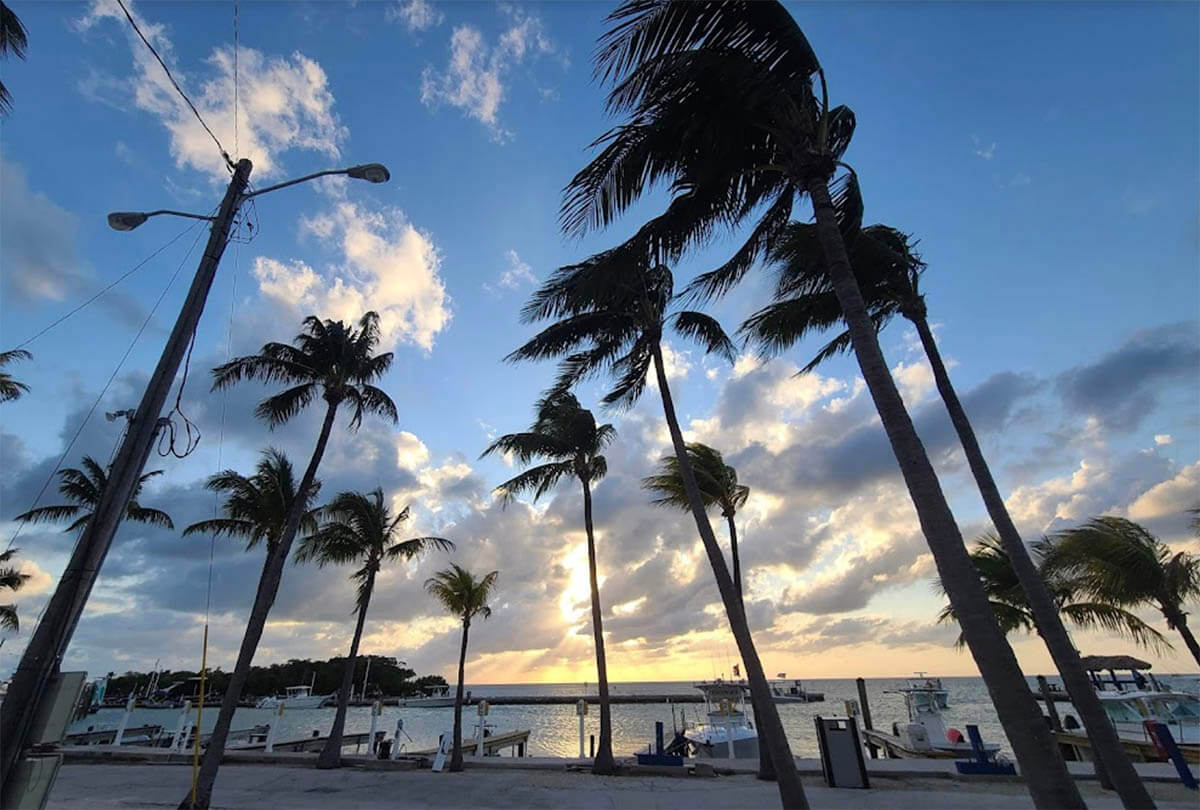 Kitesurf Vacation
We don't have any kite offers for this area, check Kite Vacations →
Kite Schools, Gear Rental & Repair
Nearby Accommodation
Location
Insurance
Be sure to travel abroad with a travel/medical insurance that covers kitesurfing activity. More →