Water type
sea, lagoon, river
So you might have heard about Driftwood before… some accolades, and some tall tales of indiana jones journeys…. Either way… this is one of my most favorite places to kite in Bellingham, and this is the first video I have shot there.
Parking here is somewhat limited at the trail head, so PLEASE park considerately. If the parking lot area is full, go find another parking spot that is further away, and just walk.. (Be careful not to park on people's lawns, or block the flow of traffic)
The trail is really not that bad. I had ACL surgery 45 days ago, am wearing a knee brace and hobbled down yesterday without any trouble… Just take your time…
As for access.. this is classified as unmaintained right of way… IE.. not a park.. no bathrooms.. no facilities.
YES, you must cross the Nooksack River to get to the launch…. YES you should get suited before you cross the river. YES, there is a good chance your kite will get wet on the crossing. (You don't have to take all your kites across the river)….. I am 6ft tall. and did not have to swim – shorter people would be swimming though, it is all of 100ft though…
What you are rewarded with is epic hatteras like conditions that are unmatched anywhere that I know of in the NW… Strong steady winds.. (the video is in 25mph+) shallow water for literally miles….. and awesome scenery.
Essentially Driftwood is just the delta of the Nooksack river.. and can be accessed from Locust.. SE winds are much steadier and stronger here than at Locust…
Best launching conditions are at tides 3 to 7 ft…. although you can launch even at 9ft if you pre-rig your lines on your kite, and have a friend to help you launch. The tail end of this video was shot at 8ft… and the launch area was getting soggy in ankle deep water.
The Locust sensor is actually very close to the Driftwood Launch…
Please Please Please help keep this area open and be respectful of the parking situation and help keep the area clean.
Directions:
1. North on Marine Dr from Locust
2. Left on Griffith Ave
3. Right on Island View Dr.
4. The road dead ends at some concrete barriers. Walk through the barriers, down the trail, wade through the shallow stream, climb over all the logs, swim across the Nooksack river, and setup your kite wherever you can find some dry ground (if there is any).
It is your responsability to check whether kitesurfing is allowed at the spot; you might need a 'special permit' or membership from a local kite organization, etc. Local rules can change. Respect others - kiters or not; kite safely and enjoy the wind!
Jan
Feb
Mar
Apr
May
Jun
Jul
Aug
Sep
Oct
Nov
Dec
Wind Direction:

No data available.
Av. Wind Speed (knts):
5
5
4
4
4
3
3
3
3
4
5
5
Av. Temperature:
5
7
8
11
14
16
110
110
17
13
8
5
* with min. 4 bft (12 knt) wind, without thermal wind stats
Spot Photos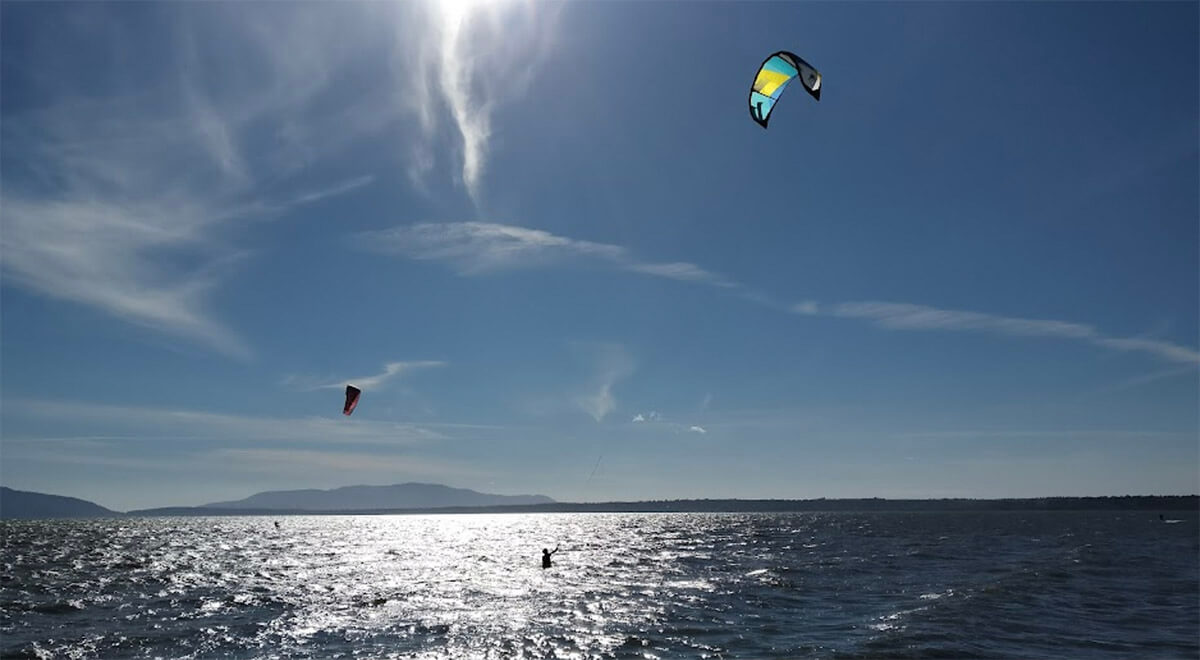 Kitesurf Packages
Don't see your offer here? Add your kite school!
Kite Schools, Gear Rental & Repair
Nearby Accommodation
Location
Insurance
Be sure to travel abroad with a travel/medical insurance that covers kitesurfing activity.More →