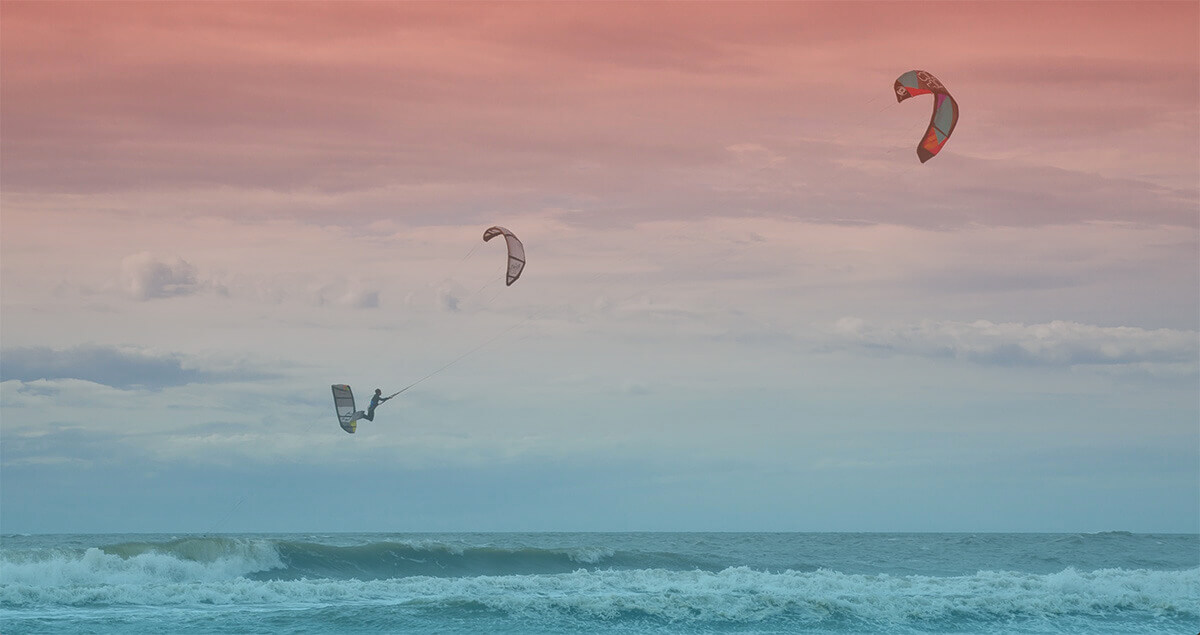 Skill level: Beginner (8ft or lower tide)
Best wind direction: SE, S
Warnings:
Water level, as mentioned above. If you are kiting on a high tide, keep in mind that you will not be able to stand up before your kite is in someone's front yard. Beware of getting your kite too close to the bluff as the wind can be very unpredictable and can swirl. On extreme tidal exchanges beware of wood debris in the water. The wind speed can both increase and shut off very quickly so keep an eye over your shoulder to watch upcoming conditions. There are a lot of buoys. Take care avoiding them.
DB is a pre-frontal location with the best winds before and after the southerly storms. Look for a SE in Puget Sound, Northern Islands and Admiralty Inlet from the NOAA marine forecast. It will often blow on a forecast of SE 10-20, but SE 15-25 and above is more desirable. Beware of any W in the forecast as it will shut down Double Bluff very quickly. For current conditions, Point No Point and Marrowstone are iKitesurf sensors to watch. The ferry readings of Edmonds – Kingston are also very helpful. The wind is onshore to sideshore in the bay depending on where you ride and the wind can sometimes be incredibly steady.
Water:
Double Bluff is a tide dependent location. An 8 ft or below water level is ideal and gives enough sand to rig and launch safely on the beach. When there is a strong outgoing tide, be ready for some nice peeling waves as the wind opposes the current and the water is shallow. The whole bay will empty out into a sand playground on an extreme low tide. Most of the time you will have plenty of waist deep water before running into the beach so it is the perfect location to try and perfect new tricks.
Rig & launch:
Please launch on the sand whenever possible! When the tide is high there is no beach, only logs, and no safe launch/land zone. Some kiters rig up in the grass area to keep their gear clean, but remember that this is not an ideal launch/land zone as the wind is onshore with many obstacles (including the bathrooms and bluff). It is a very easy and safe launch when the tide is low and there is sand available. Local kiters have asked that we not launch/land from the grass area near the restrooms at any time.
Facilities:
Double Bluff Park has two bathrooms. Except during the winter months, the outside freshwater showers are functioning and are available to rinse you and your gear. It is a well-known off leash dog park so Fido is encouraged to join you as long as he is "kite trained." The off-leash zone starts at the old windsock located 100 meters north of the restrooms. There is free parking in the lot for approximately 15 vehicles. Please do not block the drive-through.
It is your responsability to check whether kitesurfing is allowed at the spot; you might need a 'special permit' or membership from a local kite organization, etc. Local rules can change. Respect others - kiters or not; kite safely and enjoy the wind!
Jan
Feb
Mar
Apr
May
Jun
Jul
Aug
Sep
Oct
Nov
Dec
Wind Direction:

No data available.
Av. Wind Speed (knts):
6
5
5
5
4
3
3
3
3
4
5
6
Av. Temperature:
5
6
8
10
14
16
19
19
17
12
7
4
* with min. 4 bft (12 knt) wind, without thermal wind stats
Spot Photos
Kitesurf Packages
Don't see your offer here? Add your kite school!
Kite Schools, Gear Rental & Repair
Nearby Accommodation
Location
Insurance
Be sure to travel abroad with a travel/medical insurance that covers kitesurfing activity. More →