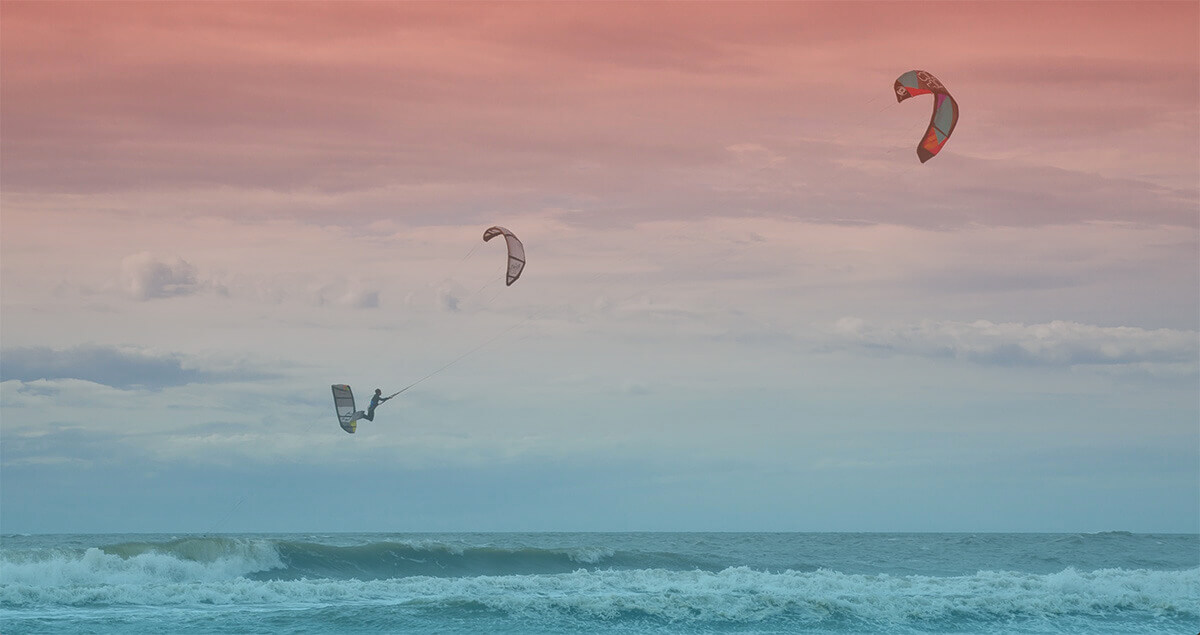 Dogfish Point, the old stand by Chuckanut spot, has been surpassed by a much better spot: Hunter Beach (permission to use Hunter has been given by the land owner (a hunting club), Hunter doesn't involve climbing down a cliff, your car is less likely to get broken into, it has plenty of grassy rigging, and high tides are not a problem
Chuckanut works on high pressure Northerly patterns so that usually means blue skies and warm air. Wind often is hair dryer steady, but it can have the odd gusty holey day. Also low tides in summer mean warm water.
Chuckanut benefits from local topography and a micro climate. To the south the Skagit Valley and Snohomish heat up quickly compared to the San Juan Islands creating a thermal draw. Add a Northerly pattern over the Sound and a venturi effect from Chuckanut Mountain that gives the wind a 5-10 knot boost. When it sets up it goes off almost always between 12:00 and 1:00, and blows till about 4:00 or so. Sometimes it starts sooner and/or lasts longer, but 1:00-4:00 is the time to hit it.
But with the good there's a price, access is a steep trail, really steep. Also at higher tide the launch is tight, not for beginers. People have hit the rocks downwind when launches went ugly. Use caution. Late summer means eel grass everywhere, it can snag lines and make relaunching tough, wake fins are a must
Wind: NW, N
Entrance Is and Vancouver W-NW in the teens in the AM, trending up
Skagit Regional, wind trending up in the AM, should be close to double digits by 11:00
Bellingham, wind will be W and trending up to around 10 by 11:00 or noon
Increasing Northerly pressure diffs between Vancouver-Seattle, and East Sound-Arlington
Tides: high tides around 7′-8′ gets really tough to launch, otherwise not much problem
Things to watch out for: nudists (they tend to stay on the lee side of the point), some sharp rocks/shells on the beach, the rocks downwind of the launch, incoming tides can make it tougher to stay upwind if you are not well powered
It is your responsability to check whether kitesurfing is allowed at the spot; you might need a 'special permit' or membership from a local kite organization, etc. Local rules can change. Respect others - kiters or not; kite safely and enjoy the wind!
Jan

Feb

Mar

Apr

May

Jun

Jul

Aug

Sep

Oct

Nov

Dec
Wind Direction:

No data available.
Av. Wind Speed (kt):
5
5
4
4
4
3
3
3
3
4
5
5
Av. Temperature:
5
7
8
11
14
16
110
110
17
13
8
5
* with min. 4 bft (12 knt) wind, without thermal wind stats
Spot Photos
Kitesurf Vacation
We don't have any kite offers for this area, check Kite Vacations →
Kite Schools, Gear Rental & Repair
Nearby Accommodation
Location
Insurance
Be sure to travel abroad with a travel/medical insurance that covers kitesurfing activity. More →