A great unknown spot called Anderson Pt, North of Olalla Pt. Hardly anyone uses this spot for general purposes and no one, that I am aware of, has kiteboarded here. On a Northerly or Southerly this sandy beach works. Straight side shore on shore wind and a light current is always going to the North no matter what the tide is doing. I just finished about a 2-3 mile down winder on a Northerly 15 from Anderson Pt to my house just South of Olalla Pt, Al's grocery and it worked perfect. A little gusty at my beach, but my Bularoo 10 handled it great. I've learned a lot from Andy at Bellingham Kiteboarding and cousin Craig and have been practicing on my own and am loving this sport.The road you turn off of Banner is Millahanna Rd. It's just North of Lala Cove Ln, Olalla Treatment Center, and once you turn onto Millahanna Rd, follow to parking lot. It looks like a rocky dirt driveway, but you are in the right place. The walk is about 8-10 minutes to the beach and there you are. It is a public park and their should be a small brown park sign off of banner indicating the public park road entrance. If you are coming from the North on Banner and you've started heading down the curvy part of Banner towards the water, you've gone too far. It's just north of Lala Cove Lane. I'm looking out the window now & it's heavy blowing 15+ now with a 1-2′ swell.This beach has sand at the top and then has smooth river rock, then sandy at low tide. Also, before the beach there is a large grassy area that is good when dry. It's off banner road and the only problem is about a 10 minute walk from your car. It's a good spot for me because its close and I prefer the Northerly so I can do downwinders to my beach. Not good enough to stay upwind yet. On a good southsound Northerly the wind seems to funnel right down the channel and is very steady. Also, on a good Northerly you get some good chop/swell because of the ebb like current.
It is your responsability to check whether kitesurfing is allowed at the spot; you might need a 'special permit' or membership from a local kite organization, etc. Local rules can change. Respect others - kiters or not; kite safely and enjoy the wind!
Jan
Feb
Mar
Apr
May
Jun
Jul
Aug
Sep
Oct
Nov
Dec
Windy days*:
11
10
11
9
5
2
0
0
0
4
10
11
Wind Direction:

No data available.
Av. Wind Speed (knts):
7
7
7
5
4
4
3
3
3
4
7
7
Av. Temperature:
5
7
9
11
15
17
19
20
18
13
8
5
* with min. 4 bft (12 knt) wind, without thermal wind stats
Spot Photos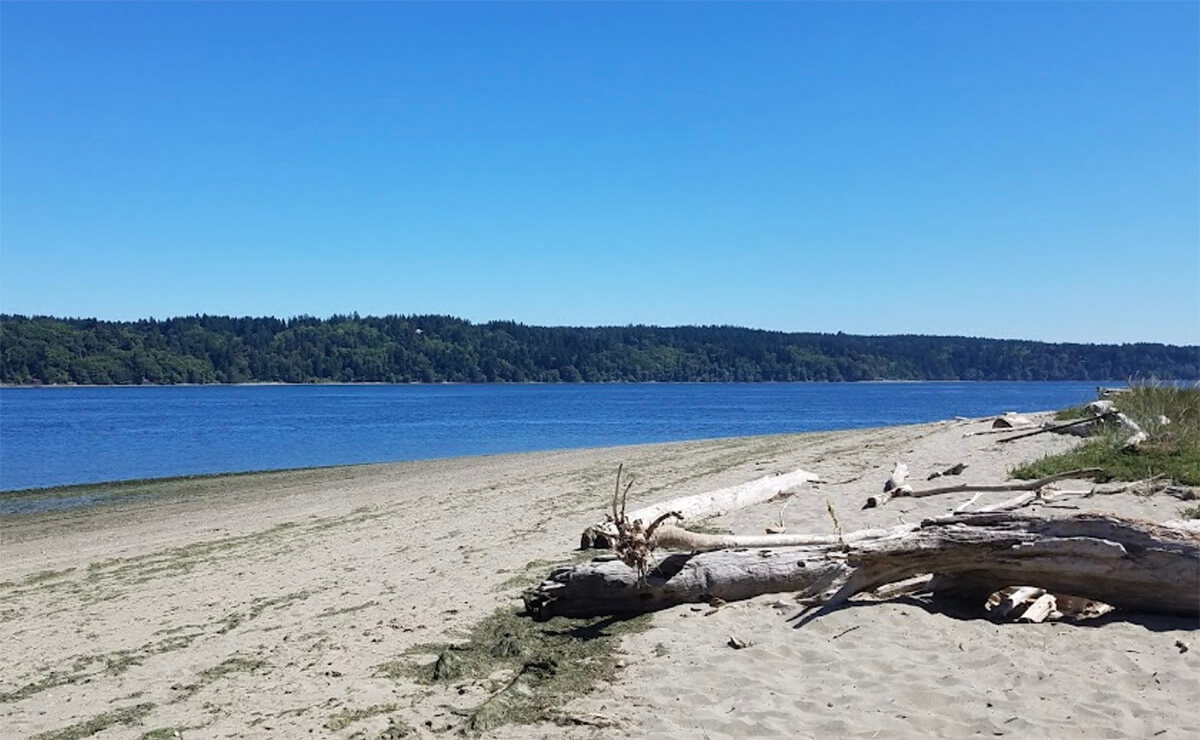 Kitesurf Packages
Don't see your offer here? Add your kite school!
Kite Schools, Gear Rental & Repair
Nearby Accommodation
Location
Insurance
Be sure to travel abroad with a travel/medical insurance that covers kitesurfing activity. More →