A kite spot near Thongsala Pier. Beautiful waist-deep water and a sandy beach. Advanced rides can go to Koh Tae Nai island, where the wind is usually a bit stronger.
There might be quite some water activity on the water, from ships at the pier, fishing, swimmers, so please pay attention.
In case of no wind, there is a plenty of other things to do – excellent diving, jet ski, snorkeling, yoga …
Wind
Two wind seasons: December – March and June – September. Windless April.
Usually 15-20 knts, but can sometimes reach 30 knts too. Thermal and trade wind.
Dangers
Reef, ships, fishnets, shells
It is your responsability to check whether kitesurfing is allowed at the spot; you might need a 'special permit' or membership from a local kite organization, etc. Local rules can change. Respect others - kiters or not; kite safely and enjoy the wind!
School
Gear rental
Repair
Kiteshop
Restaurant
Toilets
Bar
Supermarket
Accommodation
Jan
Feb
Mar
Apr
May
Jun
Jul
Aug
Sep
Oct
Nov
Dec
Windy days*:
15
13
8
5
8
18
19
17
17
10
16
21
Av. Wind Speed (knts):
7
7
7
5
5
5
5
6
5
6
7
7
Kite Season:

high

high

med

low

low

high

high

high

high

med

med

high
Av. Temperature:
26
27
30
31
31
31
30
30
30
30
29
29
* with min. 4 bft (12 knt) wind, without thermal wind stats
Spot Photos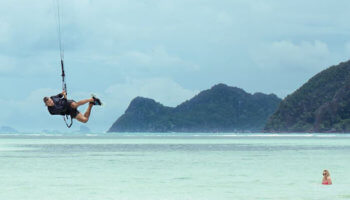 Kitesurf Packages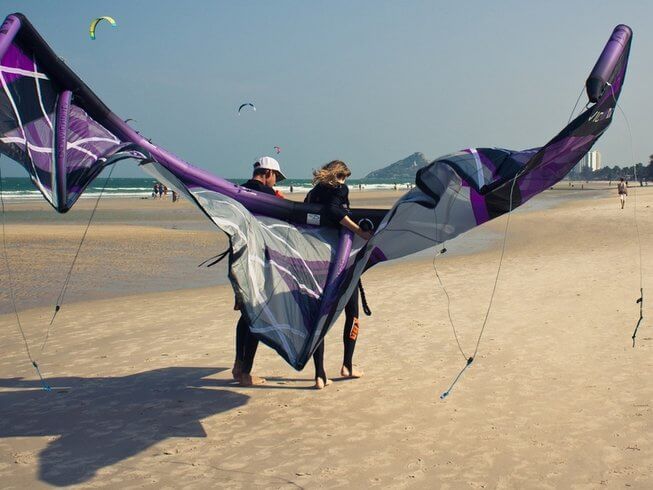 Beginners Kite Surf Camp in Hua Hin
8 Days • Available Jan - May, Oct - Dec • by KBA-Kiteboarding Asia
Learn to kitesurf in Thailand's flat water! Full beginners kite course in Hua Hin with additional 2 days gear rental and SUP hour per day. Accomodation included.
Hua Hin Beach •

Thailand
from US$ 817
Don't see your offer here? Add your kite school!
Kite Schools, Gear Rental & Repair
Nearby Accommodation
Location
Insurance
Be sure to travel abroad with a travel/medical insurance that covers kitesurfing activity.More →