Beach type
grass, mud, mix
It all started here, at Silvaplanersee! This is the lake that pioneered the what we know as kitesurfing! Silvaplanaersee it's a very scenic lake at 1800 m above sea level surrounded by the mountains and it offers perfect kite conditions. As for the altitude (and reduced air density), you will need a bigger kite than kiting at the seaside.
The place is well known, the beach can get busy during high season, but the lake is big – just be careful at the beach, once you're in the water there is a lot of space. The place also offers everything, from hot showers to bar, camp, and restaurants. One part of the lake is dedicated to kitesurfers another to windsurfers.
Great place for snowkiting in winter.
Wind
Maloja wind starts every day just before noon – 10-20 knts. It's thermal and very stable wind. Wind is better than what statistic says (ie. it's a thermal wind).
Oct-May: around 50% windy days.
Jun-Sep: around 80% windy days.
It is your responsability to check whether kitesurfing is allowed at the spot; you might need a 'special permit' or membership from a local kite organization, etc. Local rules can change. Respect others - kiters or not; kite safely and enjoy the wind!
School
Gear rental
Repair
Kiteshop
Restaurant
Toilets
Showers
Bar
Supermarket
Accommodation
Campground
Camper friendly
Jan

Feb

Mar

Apr

May

Jun

Jul

Aug

Sep

Oct

Nov

Dec
Windy days*:
9
9
8
8
6
6
6
4
5
7
8
12
Av. Wind Speed (kt):
7
7
9
9
10
10
11
11
10
9
8
7
Kite Season:

low

low

low

low

med

high

high

high

med

low

low

low
Av. Temperature:
-5
-6
-3
1
7
11
13
13
10
6
-1
-4
* with min. 4 bft (12 knt) wind, without thermal wind stats
Spot Photos
Kitesurf Vacation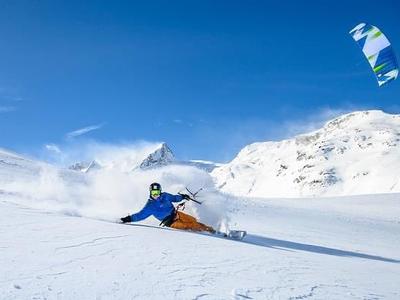 Snowkite course in Engadin (Silvaplana or Bernina), Switzerland
1 hr - full day • Available all year • by Sports Paradise
Snowkiting is easy to learn, you just need the basics of skiing or snowboarding.
If you are a kitesurfer already, add a twist to your favorite sport which you can use to explore the mountains in winter, away from crowded ski slopes!
Around mid-January the Silvaplana Lake freezes solid and transforms into a snowkite heaven – it's viewed as one of the world's most prominent snowkite spots.
St Moritz •

Switzerland
from US$ 109
Don't see your kite hub here? Add your business!
Kite Schools, Gear Rental & Repair
Nearby Accommodation
Location
Insurance
Be sure to travel abroad with a travel/medical insurance that covers kitesurfing activity. More →