Rider level
all, intermediate, expert
A kitesurfing paradise in the middle of nowhere. There are several kite spots around the area, from the lagoon to open water or even to island hopping! The high season is from May to September, and another season from December until early February. Between both seasons the wind is shitty and unpredictable as one season get south and another north winds.
The area around is not very developed, they are a bunch of guesthouses and hotels around, but you'll be pretty limited with the options (restaurants, bars, nightlife) as soon as you leave them. During the season one of the kite schools/clubs organize some parties during the week.
Wind
Strong winds during high season pretty much all day.
Dangers
Fishing nets – even when fishermen are away, they often set them in the lagoon, look for the buoys/flags. Sometimes the jellyfish, they can sting you, but they are not dangerous. Check with other kiters if the jellyfish is there.
It is your responsability to check whether kitesurfing is allowed at the spot; you might need a 'special permit' or membership from a local kite organization, etc. Local rules can change. Respect others - kiters or not; kite safely and enjoy the wind!
School
Gear rental
Launch area
Repair
Kiteshop
Accommodation
Jan
Feb
Mar
Apr
May
Jun
Jul
Aug
Sep
Oct
Nov
Dec
Windy days*:
17
8
5
7
26
30
30
30
28
16
6
13
Av. Wind Speed (knts):
7
6
5
6
13
15
15
14
13
8
6
7
Kite Season:

med

med

low

low

high

high

high

high

high

high

low

med
Av. Temperature:
28
29
31
31
31
30
30
29
29
29
28
28
* with min. 4 bft (12 knt) wind, without thermal wind stats
Spot Photos
Kitesurf Packages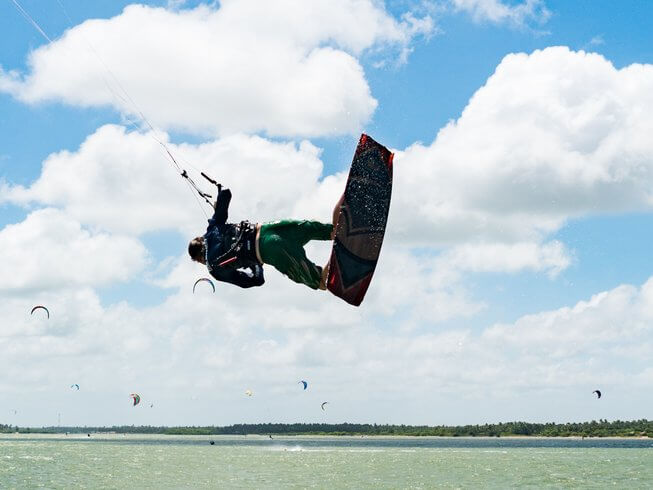 Exciting Kitesurf Camp for Beginners in Kalpitiya
7 Days • by De Silva Windresort Kalpitiya
Learn to kitesurf in the best wind of Asia – Kalpitiya lagoon. Includes full-board, accomodation and 4 days of kite classes in flat-water lagoon. When in high season, wind and space in Kalpitiya is guaranteed.
Kalpitiya Lagoon •

Sri Lanka
from US$ 725
Don't see your offer here? Add your kite school!
Kite Schools, Gear Rental & Repair
Nearby Accommodation
Location
Insurance
Be sure to travel abroad with a travel/medical insurance that covers kitesurfing activity.