Beach type
rocks, pebble, mix
Crowd
none, reasonable, medium
Tide dependent
yes
Better in low or falling tide. It's possible to kite in high tide, but waves are a lot stronger and you have to walk over more stones in water.
Waves
choppy, small, medium, big
No 1 beach by the locals in Gran Canaria. Very clean and strong wind (it gets gusty with the clouds). While the beach is covered with big volcanic stones, the bottom is sandy – in low tide, you can walk on it. Stones might be a bit painful to walk over, so bring "crocks" – anyways there are just a few steps to walk to reach the water.
Usually choppy or with some (bigger or smaller) waves, especially if you've never kited in open water before, you might think you not gonna make it. It's not that terrible as it seems. It's better in a low or falling tide when waves are not that strong.
In summer, bring the smallest kite you have as wind can regularly reach 30+ knots (add some thermic to that). This means 4 or 5 m kite if you're a woman, there is no such a thing as depowering your 6 m!
There is a special arrangement of how to launch the kite. If you're new to the beach, kindly tell the local kiters there and they will help you. Launch slowly, make sure you're not launching in the full wind direction and keep another hand on your security! We've seen quite some accidents simply made by mistakes of firstcomers to the beach – please tell that you're new.
While local kite schools give classes there in the winter (when the wind is not that strong) – if you're a beginner make sure you have someone to keep an eye with you and you don't go too far downwind as after the beach there are just cliffs.
There is nothing at the spot – except the artificial grass to launch and land the kites. Half of the bay belongs to windsurfers, please respect that. There is a Camping in the near, they have a restaurant too.
Wind
Strong and very consistent wind in the summer (25-40 knts). Add another 10-15 knts of what windguru says. Wind direction needs to be 20-30º that wind can enter the beach. If it is cloudy it can be really gusty, as the sun adds the thermal wind on the top of already strong wind.
In winter regular 15-30 knots.
Dangers
Strong wind!
Stones on the beach.
Be careful when launching and landing the kites and launch a kite slowly! Keep a hand on security, and if at any moment you don't feel safe, release. Beach is stony and you gonna get injured if the kite pulls you.
It is your responsability to check whether kitesurfing is allowed at the spot; you might need a 'special permit' or membership from a local kite organization, etc. Local rules can change. Respect others - kiters or not; kite safely and enjoy the wind!
Launch area
Campground
Camper friendly
Nothing
Jan
Feb
Mar
Apr
May
Jun
Jul
Aug
Sep
Oct
Nov
Dec
Windy days*:
21
19
21
19
22
23
30
29
18
14
18
20
Av. Wind Speed (knts):
12
14
15
16
18
20
24
22
16
13
12
11
Kite Season:

med

med

med

med

high

high

high

high

high

med

med

med
Av. Temperature:
20
19
20
21
22
23
27
27
26
26
23
21
* with min. 4 bft (12 knt) wind, without thermal wind stats
Spot Photos
Kitesurf Packages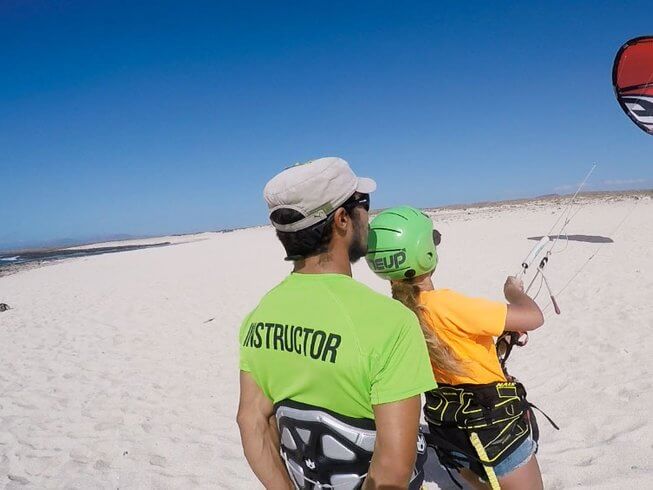 Beginners Kitesurfing Camp in Corralejo, Canary Islands
8 Days • by Line Up Fuerteventura
European kitesurfing and surfing hot spot with big community. Learn to kite under Spanish sun and Canarian wind. Fuerteventura offers nice sandy beaches and unique arid volcanic landscape. Includes kite course and accommodation.
Flag Beach • Canary Islands •

Spain
from US$ 806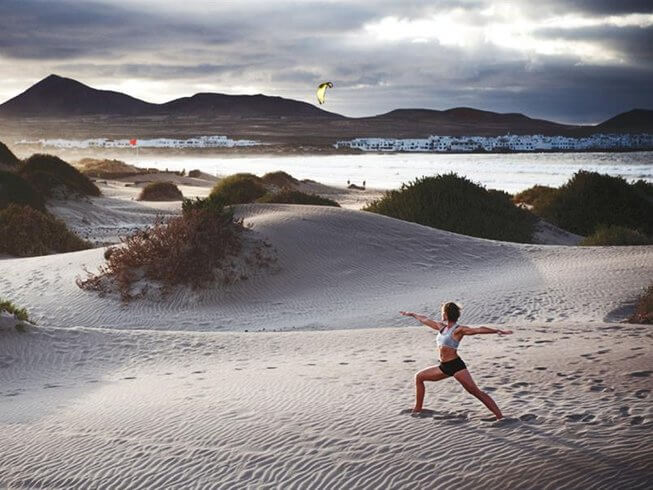 Kitesurfing and Yoga Holiday in Lanzarote, Canary Islands
8 Days • by Red Star Surf
Energize with yoga class in the morning, enjoy the fantastic sceneries the island has to offer and take the first kitesurfing classes. Based in Famara, small fishing village in the north of Lanzarote. In spare time, you can hop on a bike, take Spanish class and surf.
Calleta de Camara • Canary Islands •

Spain
from US$ 627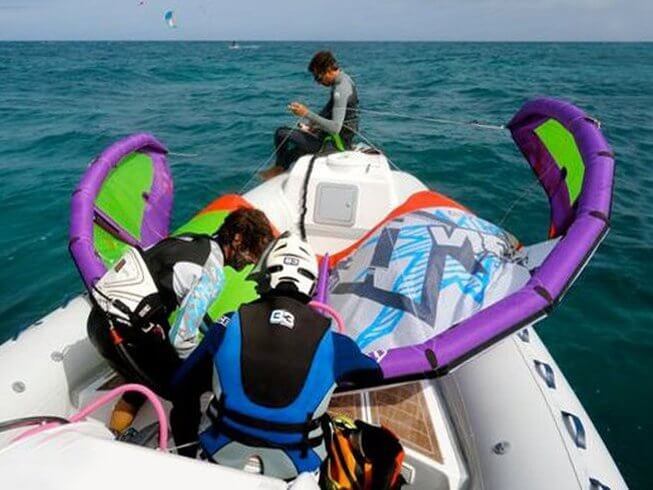 Two-in-One Kitesurfing with Spanish Course Holiday in Corralejo, Fuerteventura
8 Days • by Spanish and Surf
Two in one holiday – learn to kitesurf and learn Spanish in Corralejo, Fuerteventura. Don't worry and bring your two favorite things together. Enoyable spanish classes and world famous kite spot!
Flag Beach • Canary Islands •

Spain
from US$ 824
Don't see your offer here? Add your kite school!
Kite Schools, Gear Rental & Repair
Nearby Accommodation
Location
Insurance
Be sure to travel abroad with a travel/medical insurance that covers kitesurfing activity.