Tide dependent
yes
Better in high tide. Too many rocks in low tide.
Waves
choppy, small, medium, big
While kitesurfing in the bay of Pozo Izquierdo got prohibited, kiters have moved to Salinas. Wind at Salinas Tenefé is the cleanest of all spots of the island. The spot works good in high tide. In low tide, there are just too many rocks to climb over.
Pretty much nothing at the spot, but Pozo is nearby so you can find there everything – including a kite shop and repair.
Don't pass the "bunker" after it, it's difficult to get out of the water due to rocks. Works well in the north-east wind.
Wind
Strong and clean. Usually 3-5 knts stronger than in Vargas. 20-35+ knts in summer, 15-30 knts in winter.
Dangers
Rocks. Don't kite here if you can't go upwind. Especially difficult to get into the water if there are waves.
It is your responsability to check whether kitesurfing is allowed at the spot; you might need a 'special permit' or membership from a local kite organization, etc. Local rules can change. Respect others - kiters or not; kite safely and enjoy the wind!
Gear rental
Repair
Kiteshop
Restaurant
Bar
Accommodation
Nothing
Jan
Feb
Mar
Apr
May
Jun
Jul
Aug
Sep
Oct
Nov
Dec
Windy days*:
26
25
27
26
26
28
31
30
25
22
24
25
Av. Wind Speed (knts):
12
14
16
17
18
21
25
23
17
14
13
11
Kite Season:

med

med

med

med

high

high

high

high

high

med

med

med
Av. Temperature:
18
18
18
19
20
22
23
25
24
23
21
19
* with min. 4 bft (12 knt) wind, without thermal wind stats
Spot Photos
Kitesurf Packages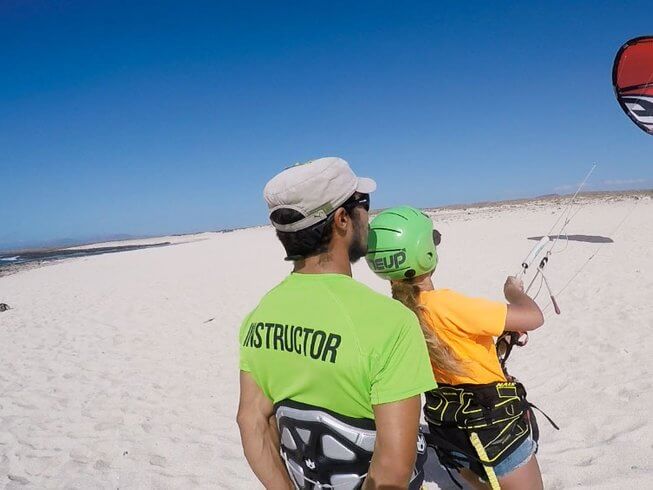 Beginners Kitesurfing Camp in Corralejo, Canary Islands
8 Days • by Line Up Fuerteventura
European kitesurfing and surfing hot spot with big community. Learn to kite under Spanish sun and Canarian wind. Fuerteventura offers nice sandy beaches and unique arid volcanic landscape. Includes kite course and accommodation.
Flag Beach • Canary Islands •

Spain
from US$ 806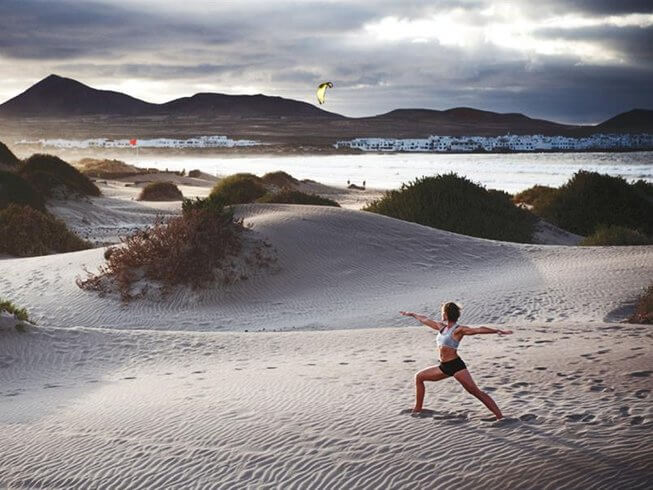 Kitesurfing and Yoga Holiday in Lanzarote, Canary Islands
8 Days • by Red Star Surf
Energize with yoga class in the morning, enjoy the fantastic sceneries the island has to offer and take the first kitesurfing classes. Based in Famara, small fishing village in the north of Lanzarote. In spare time, you can hop on a bike, take Spanish class and surf.
Calleta de Camara • Canary Islands •

Spain
from US$ 627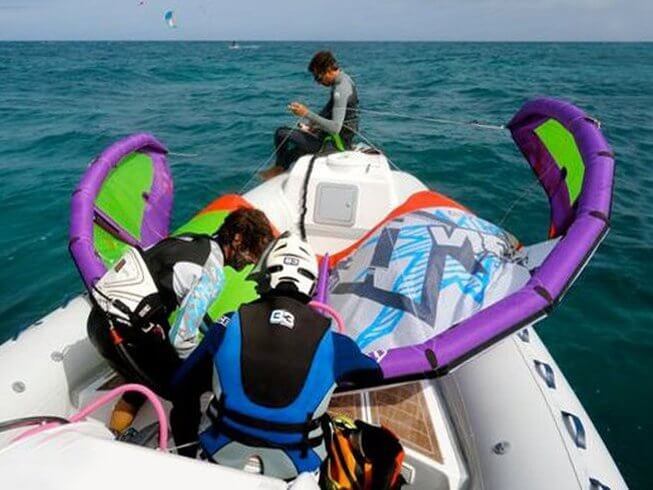 Two-in-One Kitesurfing with Spanish Course Holiday in Corralejo, Fuerteventura
8 Days • by Spanish and Surf
Two in one holiday – learn to kitesurf and learn Spanish in Corralejo, Fuerteventura. Don't worry and bring your two favorite things together. Enoyable spanish classes and world famous kite spot!
Flag Beach • Canary Islands •

Spain
from US$ 824
Don't see your offer here? Add your kite school!
Kite Schools, Gear Rental & Repair
Nearby Accommodation
Location
Insurance
Be sure to travel abroad with a travel/medical insurance that covers kitesurfing activity.