'The point' as it's known in Paracas, is the most accessible high-wind spot in Peru, and yet remains largely undiscovered. This is probably because wind forecasts always show it having no wind when it's nuking! During the summer months (November – March) a local microclimate creates high thermal winds for almost daily kiting goodness! (17-24 on average, with 26-30 1-2× per week). The wind turns on at 12-1 and blows til 5-6 and is usually very steady. Check out the windguru live wind-meter to see for yourself (note: it's a little obstructed so add 2 kts to the readings). In winter months you can expect 2-3 days a week of good wind (15kts+).
The beach is huge, with tons of space to set up and the spot rarely feels crowded. Weekends can get busy, with kiters from Lima coming down for the weekend. On weekends the spot usually has 15-30 riders, but during the week you often kite with only 3-5.
The wind is SE, cross offshore. This results in flat water close to shore, and upwind, perfect for progression. The local kite school Kangroo Kite, also has a jetski, and always rescues kiters in need.
The point is a great base to check out other kite spots in the Paracas national reserve. A beautiful desert playground on the doorsteps of Paracas. The reserve tends to have 4-5 kts more than The Point, which means some pretty epic kiting as you travel deeper into the desert. (Playon and Laguna Grande are two local favorites, 20min and 40min drives respectively from the point).
When it's not windy, a lot of chilling and hanging out tends to happen at Kangaroo Kite. The school is well equipped with an awesome chill space, restaurant, and also sells/rents equipment. The local community is super friendly and routinely have bbqs/ chillout together at the Kangaroo.
In town, Paracas has some great food the local favorite/watering hole is Waiki's restaurant. Kokopelli is the local party/bar spot. Check out Aldea Peru for some awesome beautiful long-term rentals (bonus, a lot of local kiters live there too). Or backpackers hostel/ other options for an economical stay. A lot of kiters and the local community participate in 3× weekly CrossFit classes with Juan (owner of the Kangaroo) at the Aldea gym.
It is your responsability to check whether kitesurfing is allowed at the spot; you might need a 'special permit' or membership from a local kite organization, etc. Local rules can change. Respect others - kiters or not; kite safely and enjoy the wind!
School
Gear rental
Launch area
Repair
Kiteshop
Restaurant
Toilets
Showers
Bar
Accommodation
Jan

Feb

Mar

Apr

May

Jun

Jul

Aug

Sep

Oct

Nov

Dec
Windy days*:
24
19
23
17
23
23
25
20
27
30
28
29
Av. Wind Speed (kt):
9
8
8
8
7
7
7
7
8
8
8
8
Kite Season:

high

high

high

high

med

med

med

med

med

med

high

high
Av. Temperature:
26
26
26
25
24
22
22
23
23
24
24
25
* with min. 4 bft (12 knt) wind, without thermal wind stats
Spot Photos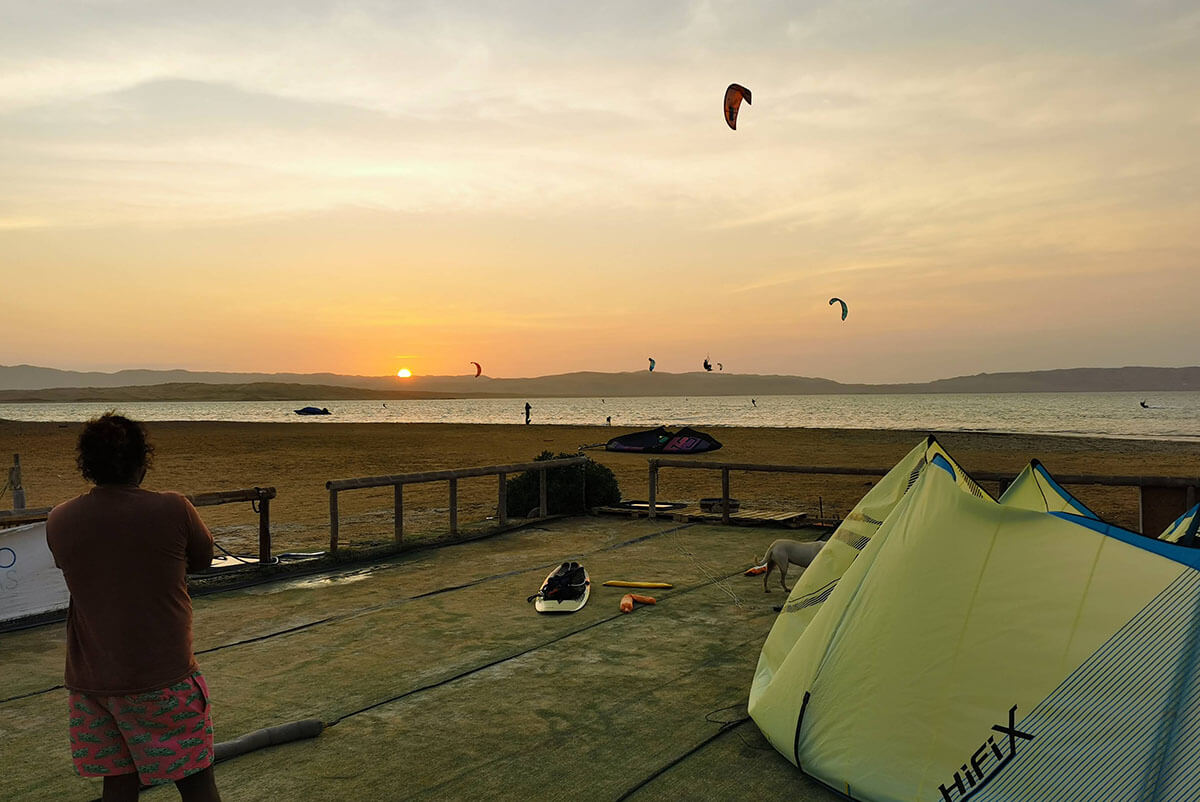 Kitesurf Vacation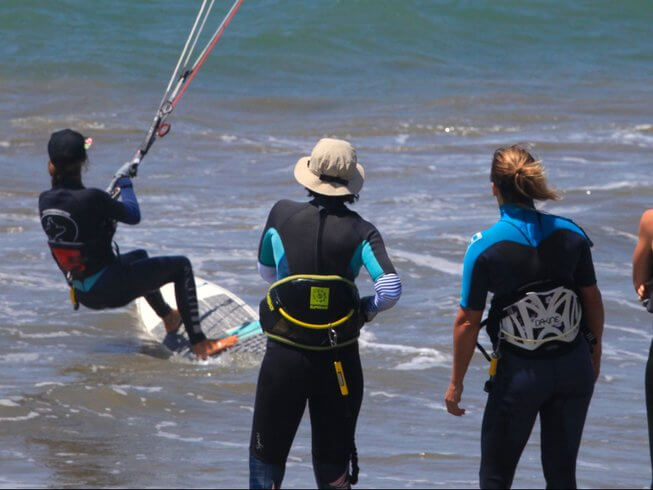 All-inclusive Kitesurf Wave Clinic in Ñuro, Peru
7 Days • Available all year • by Surf Racer House Peru
Do you like riding waves? Coaching, beach assistance and guiding, downwind trip, guided kitesurf wave riding trips to different spots as also some flat waters! This pack is suitable for intermediate and advanced riders that are not affraid of the waves. Ocean view bedrooms and meals are included.
El Ñuro •

Peru
from US$ 1,100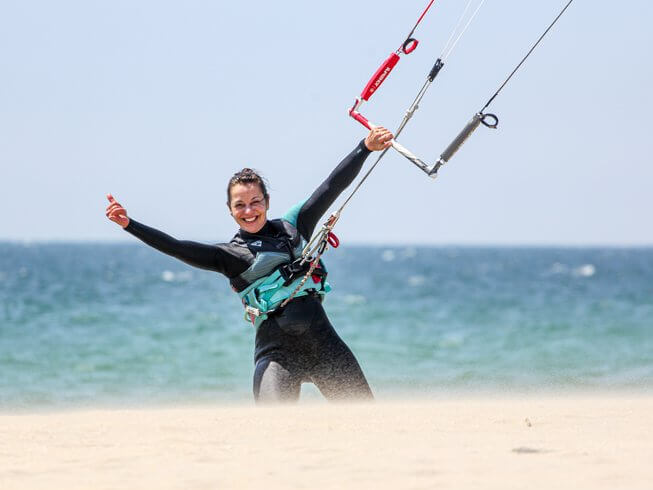 5 Day Women's Kiteboarding Holiday in El Ñuro, Peru
5 Days • Available all year • by Surf Sisters
Exciting retreat on the secluded beach with an ocean view surf house in the one of the best surf and kite destinations, Peru. With dry and nice weather all year round, reliable wind, and exquisite Peruvian gastronomy. Your days will be filled with kiteboarding, surfing, and yoga (for kiters) sessions. Get away from your mundane life and rejuvenate your body and soul in this retreat!
El Ñuro •

Peru
from US$ 650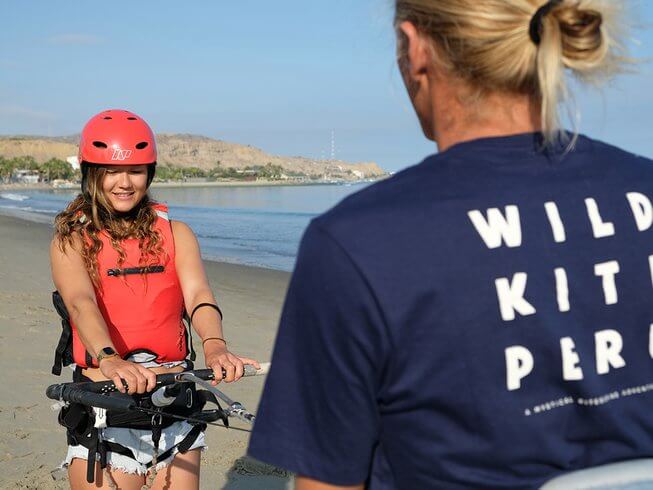 Learn Kiteboarding with the Wild Kite Team in Máncora, Peru
5 Days • Available Apr - Dec • by Wild Kite Peru
Learn to kite in perfect conditions! Intensive 3 days of private classes, yoga stretching, beautiful kite house accommodation with breakfast in a friendly family atmosphere. See you!
Máncora •

Peru
from US$ 480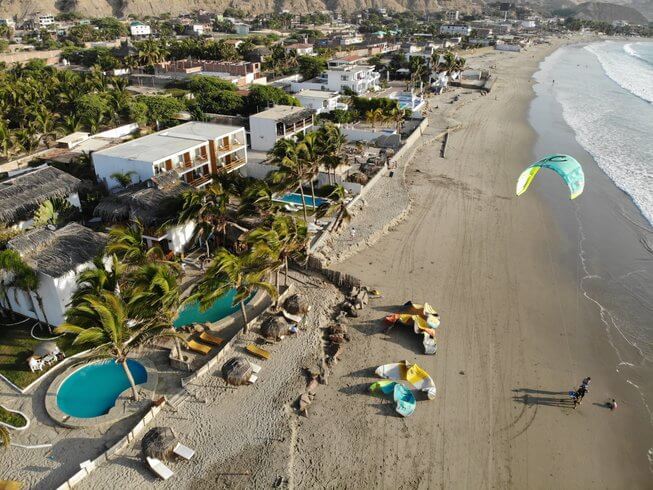 Happy Days of Kitesurfing and Yoga in Máncora, Peru
7 Days • Available Apr - Dec • by Wild Kite Peru
Come to Mancora, on the Peruvian north shore, where the summer is endless, and share with our community our perfect beach routine: surf, stand-up paddle, or yoga on a windless morning and kitesurf in the afternoon.
Máncora •

Peru
from US$ 1110
Don't see your kite hub here? Add your business!
Kite Schools, Gear Rental & Repair
Nearby Accommodation
Location
Insurance
Be sure to travel abroad with a travel/medical insurance that covers kitesurfing activity. More →