The Mall (Mount Maunganui)
Pilot Bay is only for Experienced Kiteboarders due to all the boats and shipping channel, The Harbour master has asked that all Kiteboarders must kiteboard out pasted the boats due to swimmers etc. The kite setup , launching/landing and pack down area is buy the car park in the middle of Pilot bay, please be advised this is not the nicest place to be flying a kite due to: Harbour, Small beach, Trees, Houses, Cars, Roads and boats.
The HARBOUR MASTER has advised to all kite school to tell all kiters that you must kite outside the moored boats not in close to land due to other users of Pilot bay, Swimmers, Kayakers etc,
PLEASE FOLLOW THIS RULE IT IS IMPORTANT.
Flat water out on the sand bar at low tide.
Beware of ships and boats if kiting at the sand bar as you are kiting on the edge of the shipping channel, if a ship comes in or out of the harbour please stop and stand on the sand bar with your kite at 12 o'clock and wait for the ship to pass, remember anything bigger than you needs respect.
Remember if kiting at pilot bay you have the Harbour Entrance at one end and Tauranga Port at the other end this is not a kiteboarding location to get in to trouble.
Launching/landing area is not the best due small area and wind being on shore if south west, beware of trees, houses, boats, cars, roads etc., if it's a south west wind the trees and houses will affect the flying of your kite, don't play on the beach with your kite head straight out to the water.
By kitesurfing spots NZ
Wind
Wind Directions: S – SW – W
It is your responsability to check whether kitesurfing is allowed at the spot; you might need a 'special permit' or membership from a local kite organization, etc. Local rules can change. Respect others - kiters or not; kite safely and enjoy the wind!
Jan

Feb

Mar

Apr

May

Jun

Jul

Aug

Sep

Oct

Nov

Dec
Windy days*:
24
21
25
23
26
26
27
27
26
27
26
24
Wind Direction:

No data available.
Av. Wind Speed (kt):
11
10
11
11
12
13
13
13
12
12
12
11
Av. Temperature:
19
19
18
16
14
13
12
12
13
14
16
18
* with min. 4 bft (12 knt) wind, without thermal wind stats
Spot Photos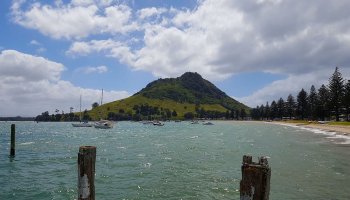 Kitesurf Vacation
We don't have any kite offers for this area, check Kite Vacations →
Kite Schools, Gear Rental & Repair
Nearby Accommodation
Location
Insurance
Be sure to travel abroad with a travel/medical insurance that covers kitesurfing activity. More →