Tide dependent
yes
More space to launch in low tide.
Waves
choppy, small, medium, big
Level Advanced, to kite Lyall you must be able to competently kite upwind, be able to comfortably pop waves (practice on Waikanae), and have strong spatial awareness of your kite at all times (even if you are underwater). Wind Direction SE through to SW although can be gusty in SW due to the hills on the Western side. Webcam Mid beach
Lyall Bay is a long (narrow) sandy bay located next to Wellington's airport and faces the Cook Strait. Picks-up a lot of southerly swell and the waves can get quite powerful with an onshore beach break. Combination of heavy waves, gusty onshore winds, windsurfers, proximity to the road (and buildings on the beach) make it unsuitable for any but extremely experienced riders. It is often necessary to have to jump over breaking waves in order to sail out. Upwind sailing, and jumping and jibing are necessary skills for sailing at Lyall. If you cannot confidently perform all of these skills, when it is blowing a southerly, please sail at Petone which is more suitable for beginners/intermediate kitesurfers.
The word: Awesome spot, can get massive waves The Airport Before sailing in Lyall Bay you MUST contact the airport control tower (particularly if you're the first there) and ask permission prior to launch (04) 387 1980. The control tower has the full responsibility for all airspace around the area and has the power to stop kites flying at Lyall. Some people have already been pulled over by airport security for launching without warning. Please obey their instructions and keep them happy. Local kitesurfers have worked hard to maintain a good working relationship with the control tower. Please respect these guidelines to keep Lyall bay open to kitesurfers. Special Circumstances on Lyall Theserules apply elsewhere but we are under the watchful eye of the airport, the surf club and the harbour master, it is not uncommon elsewhere in New Zealand that kiters are restricted on beaches, we need to preserve our integrity by realizing we are one user of the beach and take special care on all beaches, Lyall, in particular, can be a log jam and is very dangerous.
Give the public 50m space at all times, watch the launch, wait for people to walk – when riding past surfers, avoid spraying them with your wash, it can hurt if you get too close – do not fly your kite over people when walking on the beach, send it to the other side of the window and then walk around them – do not ride through surf events, get upwind and get around them.
Setting up for the Launch
The only place to set-up, launch, and land in Lyall bay is at the far westend/corner of the beach, in front of the toilet block, where the windsurfers also rig and launch from. This the most upwind point in the bay. Launching anywhere east of the lifesaving club buildings is not advisable as it is almost impossible to sail upwind through the shore break here. Please do NOT attempt to launch down at the east end of the beach by the airport. The beach is long and sandy but can be very narrow at high tide, so launching is recommended at low tide. The main road runs adjacent to the beach and not only does it have the usual power lines but also has high voltage bus power cables too. Launching in the corner can be gusty. Definitely not a place for the novice! On the Water Sailing is restricted to the west side of the bay, the Briscoes building marks the end of the fly zone, even better turn back at the ACCOUNTANTS building. Lyall Bay offers some of Wellingtons best conditions with good wind and waves for the advanced rider. The normal Southerly wind is cross-onshore from the right meaning starboard tack to get out through the surf. Lyall throws up some great rideable waves which can be ridden upwind (port tack) or down-the-line on starboard.
By kitesurfing spots NZ
It is your responsability to check whether kitesurfing is allowed at the spot; you might need a 'special permit' or membership from a local kite organization, etc. Local rules can change. Respect others - kiters or not; kite safely and enjoy the wind!
Jan
Feb
Mar
Apr
May
Jun
Jul
Aug
Sep
Oct
Nov
Dec
Windy days*:
21
16
19
18
19
21
21
22
23
24
22
21
Wind Direction:

No data available.
Av. Wind Speed (knts):
9
8
8
8
9
10
10
10
10
11
10
9
Av. Temperature:
17
17
16
14
12
10
10
10
11
12
14
16
* with min. 4 bft (12 knt) wind, without thermal wind stats
Spot Photos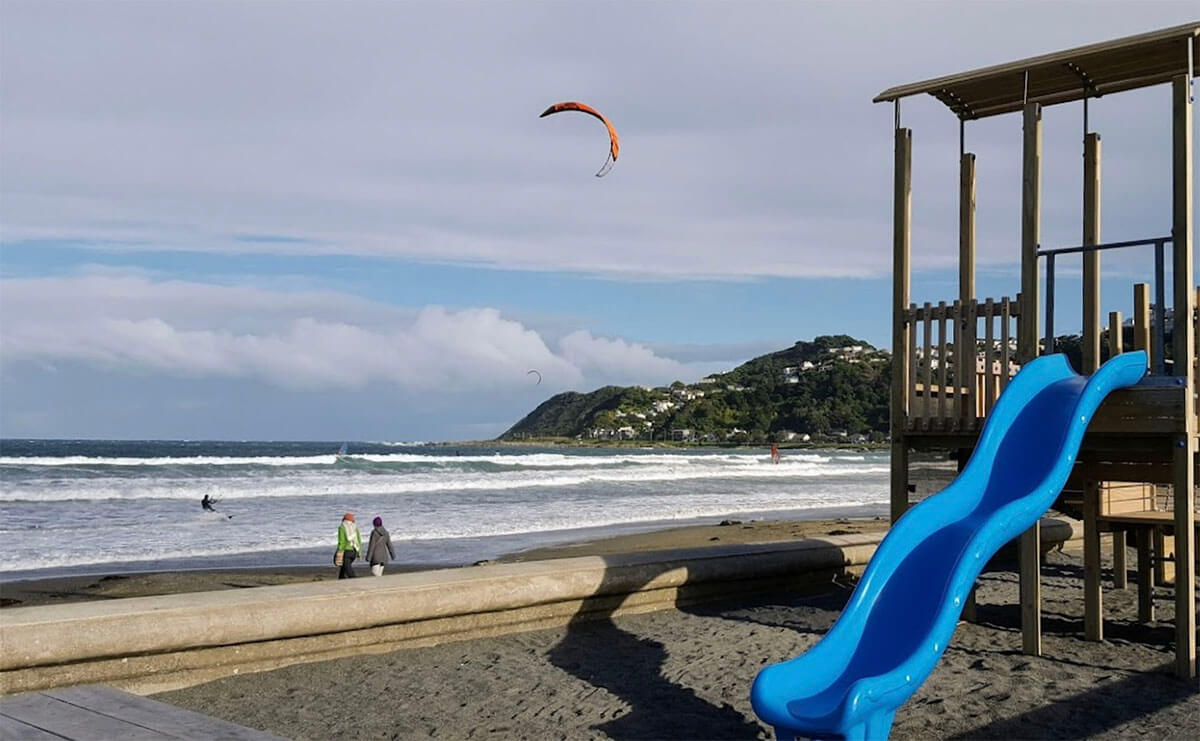 Kitesurf Packages
Don't see your offer here? Add your kite school!
Kite Schools, Gear Rental & Repair
Nearby Accommodation
Location
Insurance
Be sure to travel abroad with a travel/medical insurance that covers kitesurfing activity. More →