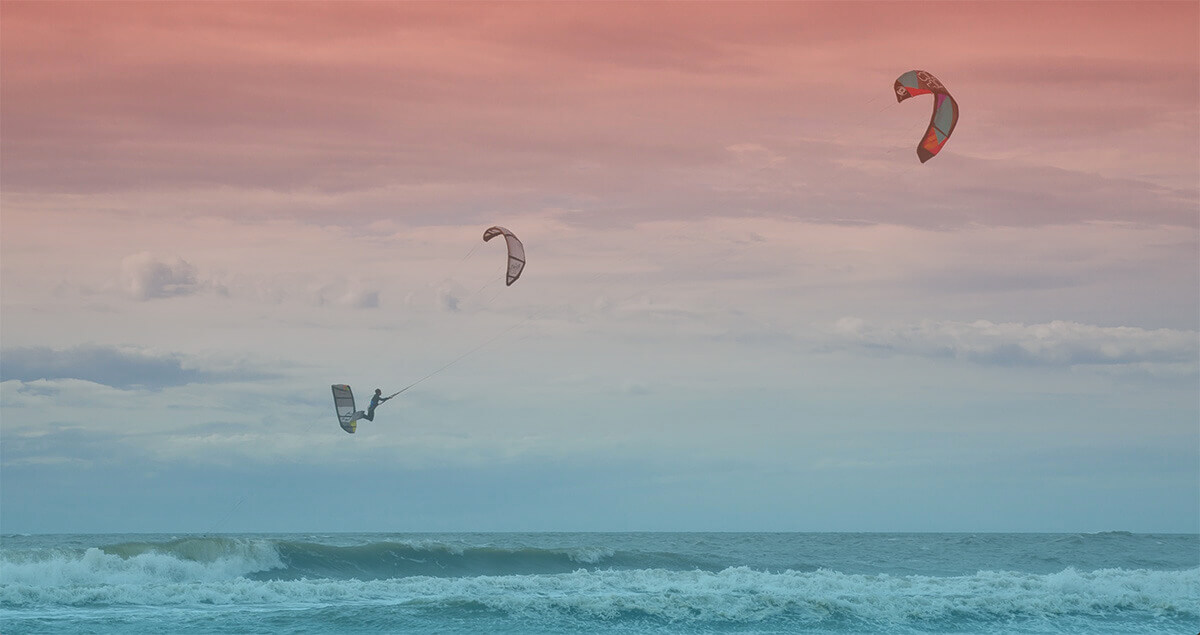 Estuary is Perfect for beginners in SW or W as you can only get washed up on the sand bank further down the estuary if you cant relaunch, and is cross onshore to the Foxton side. NW is cross off in the estuary so if you cannot keep upwind, ride in the surf on the beach as it's cross on in a NW, otherwise, you'll end up on the Waiterere side with a long swim ahead of you. Location Manawatu Estuary, Flat water, sandy bottom Drive into Foxton Beach, Past Mr Grumpy's Fish & Chip Shop on left, carry on till you reach the motor camp on the left and head straight for the main gates. just in front of the entrance bear left and carry on driving to get to Estuary. You can drive on with a 2wd. Foxton Beach Small to medium waves, sandy bottom Drive thru Foxton Beach to the beach car park. If in a 2wd park here and walk down the beach a bit away from the car park tom set up if busy. If 4wd, drive on to the beach at either left or right side of car park and find a spot to rig up away from people.
Estuary is an Epic flat water Spot in anything with W in it. Set up & launch Head straight for the foot of the dunes straight ahead. Park up and carry gear along waters edge approx 100m to high sand bank. Best place to set up as there's no driftwood and is just soft sand. Otherwise when you get on to the sand, head straight and left and set up on the flat as far up as you can. There's a bird sanctuary near the town end of the estuary so stay away from here, the closer you ride to the mouth the better. Be very mindful of Whitebaiters and fishermen along the edge of the estuary and stay out of their way when heading out into the estuary. Fishing lines don't make good necklaces… On the water Stay closer to the beach than the town as it gets gusty the further inland you get, as well as the bird sanctuary to look out for. The main channel of the river is on the far side of the estuary so stick to the Foxton side unless you're prepared for the current. 5 to 6 knot current at lower tide. Best ridden around high tide as current is much less and there's more shallow flat areas to ride in. Low tide riding for experienced riders only as if you lose your board it'll zip away from you in the current pretty quick.
By kitesurfing spots NZ
Wind
Wind direction In the estuary SW thru W to NW Also SE Works best in SW or W with outgoing tide On the beach S thru W to N .
It is your responsability to check whether kitesurfing is allowed at the spot; you might need a 'special permit' or membership from a local kite organization, etc. Local rules can change. Respect others - kiters or not; kite safely and enjoy the wind!
Jan
Feb
Mar
Apr
May
Jun
Jul
Aug
Sep
Oct
Nov
Dec
Windy days*:
19
13
16
15
17
19
20
21
22
23
21
19
Wind Direction:

No data available.
Av. Wind Speed (knts):
8
7
7
7
8
9
9
9
9
10
9
8
Av. Temperature:
17
17
16
14
12
11
10
10
11
13
14
16
* with min. 4 bft (12 knt) wind, without thermal wind stats
Spot Photos
Kitesurf Packages
Don't see your offer here? Add your kite school!
Kite Schools, Gear Rental & Repair
Nearby Accommodation
Location
Insurance
Be sure to travel abroad with a travel/medical insurance that covers kitesurfing activity. More →