If you are a beginner and not able to ride upwind, please don't kite here as the beach is small and the Egyptian border is not that far away!
It is now possible to book a rescue boat, which is deployed at most working hours. You will be picked up a few km south of entry. This is a very routine and regular procedure.
Wind
The wind during the day blows around 18 knots in the summer and 14 knots in winter, with many good days of 20-25 knots.
It is your responsability to check whether kitesurfing is allowed at the spot; you might need a 'special permit' or membership from a local kite organization, etc. Local rules can change. Respect others - kiters or not; kite safely and enjoy the wind!
School
Gear rental
Launch area
Repair
Kiteshop
Restaurant
Toilets
Showers
Bar
Supermarket
Jan

Feb

Mar

Apr

May

Jun

Jul

Aug

Sep

Oct

Nov

Dec
Windy days*:
6
8
14
16
22
24
24
19
11
4
4
4
Av. Wind Speed (kt):
8
9
10
10
11
12
11
12
13
9
8
8
Kite Season:

low

low

low

high

high

high

high

high

high

high

low

low
Av. Temperature:
15
16
19
24
27
29
31
31
29
26
21
16
* with min. 4 bft (12 knt) wind, without thermal wind stats
Spot Photos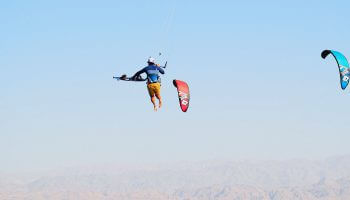 Kitesurf Vacation
We don't have any kite offers for this area, check Kite Vacations →
Kite Schools, Gear Rental & Repair
Nearby Accommodation
Location
Insurance
Be sure to travel abroad with a travel/medical insurance that covers kitesurfing activity. More →