Unspoiled location on a sandy beach and clear turquoise water. Works best in the North wind (side-onshore). The area is separated for beginners and pros. Not overcrowded.
Camping is strictly prohibited.
Wind
15+ knots more than 240 days/year. Meltemi and Venturi winds.
It is your responsability to check whether kitesurfing is allowed at the spot; you might need a 'special permit' or membership from a local kite organization, etc. Local rules can change. Respect others - kiters or not; kite safely and enjoy the wind!
School
Gear rental
Repair
Kiteshop
Restaurant
Toilets
Showers
Bar
Supermarket
Accommodation
Jan
Feb
Mar
Apr
May
Jun
Jul
Aug
Sep
Oct
Nov
Dec
Windy days*:
27
25
26
21
19
20
26
25
23
22
21
26
Av. Wind Speed (knts):
16
17
15
13
11
12
16
16
14
15
14
16
Kite Season:

med

med

med

med

high

high

high

high

high

high

med

med
Av. Temperature:
13
12
13
15
18
22
24
24
23
20
17
14
* with min. 4 bft (12 knt) wind, without thermal wind stats
Spot Photos
Kitesurf Packages
Kitesurf Camp in Rhodes, Aegean Sea
6 Days • by Surf and Kite Theologos
Treat yourself to kitesurf camp in Rhodes, Greece! Learn to kite in one of the windiest surf spots in Europe. For all the night owls, constantly changing evening entertainments, delicious Greek food, as well as a range of bars, clubs, are just around the corner. Experience a holiday-sports-flair surrounded by nice people within a cool atmosphere. Hang loose!
Kremasti •

Greece
from US$ 650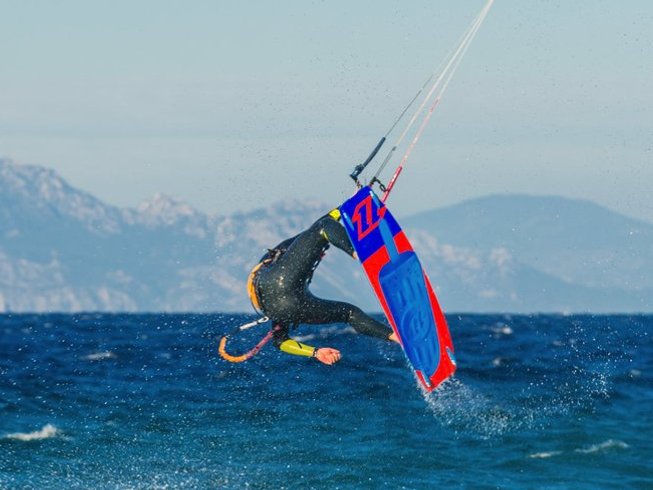 Kite Gear Rental in Rhodes
8 Days • by WetSkillz kite center
Sometimes travelling with the kite gear can be a real hassle. If you're independent kitesurfer you can rent the current year Duotone equipment for your kite vacation in Rhodes! It is also possible to rent accessories and rescue boat in case it is needed.
Tholaros Beach, Rhodes •

Greece
from US$ 641
Don't see your offer here? Add your kite school!
Kite Schools, Gear Rental & Repair
Nearby Accommodation
Location
Insurance
Be sure to travel abroad with a travel/medical insurance that covers kitesurfing activity.