Do you kite here? Let us know more about the spot! Click here to edit!
It is your responsability to check whether kitesurfing is allowed at the spot; you might need a 'special permit' or membership from a local kite organization, etc. Local rules can change. Respect others - kiters or not; kite safely and enjoy the wind!
Jan
Feb
Mar
Apr
May
Jun
Jul
Aug
Sep
Oct
Nov
Dec
Windy days*:
16
15
17
13
14
19
14
17
20
15
13
16
Wind Direction:

No data available.
Av. Wind Speed (knts):
8
8
7
7
7
8
7
7
8
7
7
8
Kite Season:

high

high

high

med

med

high

med

high

high

med

med

high
Av. Temperature:
16
17
21
25
29
31
33
33
31
27
22
18
* with min. 4 bft (12 knt) wind, without thermal wind stats
Spot Photos
Kitesurf Packages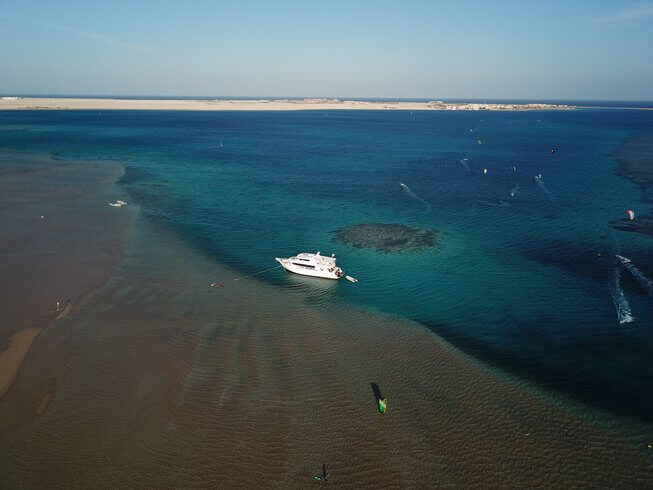 "Kite-Eat-Sleep-Repeat" in a Boat at Soma Bay
8 Days • by Tornado Surf Center
Join a "Kite Adventure" boat, start the kite day at sunrise and finish at sunset. Beginners & Intermediate classes, escape to mainland when needed, and experience flat and turquise waters and Egyptian kite scene!
Safaga •

Egypt
from US$ 1038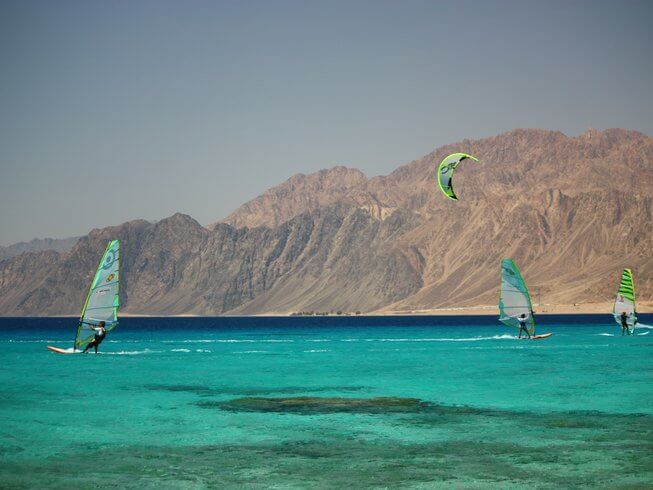 Kitesurf Holiday in Dahab, South Sinai
7 Days • by Dahab Holidays
Do not miss the chance to experience kitesurfing in one of the best places in Egypt – Dahab. The shallow flat water kite lagoon is within easy reach from your accommodation, constant winds and lots of space for everyone. Kite package is tailored to your wishes. Includes stay in lagoon villa appartments.
Dahab Lagoon •

Egypt
from US$ 801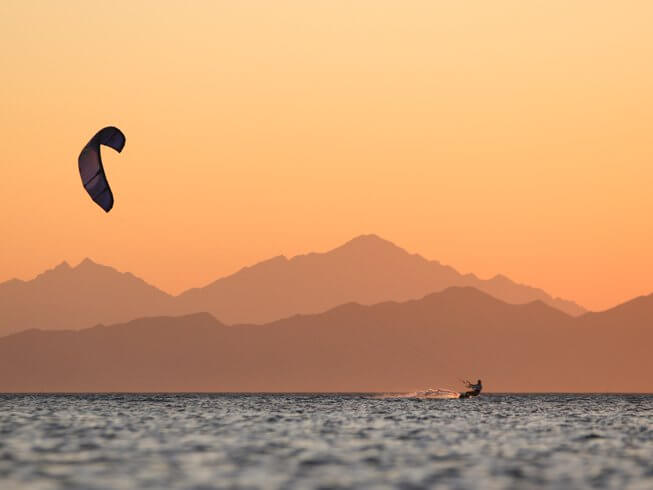 Egypt Kitesurf Camp in Hurghada, Red Sea
7 Days • by Discovery Kite
Full board kite camp for all kite levels away from the crowds. Meet new friends, discover the secret paradise, and enjoy barbecue nights under the stars in one of the best kite destinations.
Safaga •

Egypt
from US$ 1,092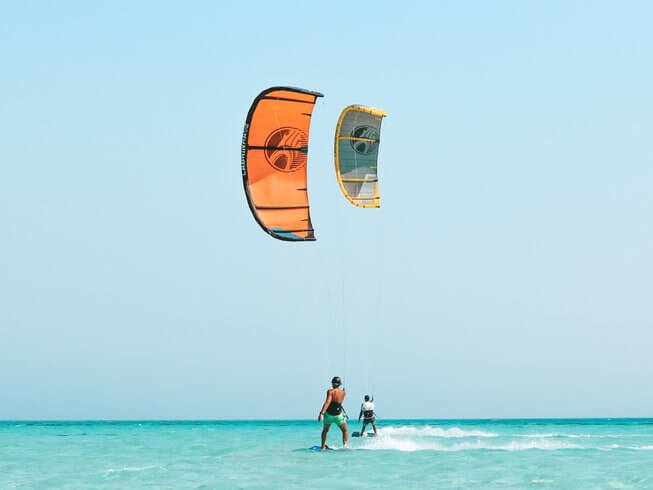 From Zero to Hero Unique Kitesurfing in El Gouna, Egypt
7 Days • by Discovery Kite
Share the stoke of kitesurfing, taking your skills to the next level! Learn how to kitesurf in the best conditions in El Gouna! Perfect choice to learn to kite or upgrade your kitesurfing level. Meet new people, enjoy the beach life, and kite as much as you can!
El Gouna Element Watersports •

Egypt
from US$ 1,487
Don't see your offer here? Add your kite school!
Kite Schools, Gear Rental & Repair
Nearby Accommodation
Location
Insurance
Be sure to travel abroad with a travel/medical insurance that covers kitesurfing activity.