Very nice beach! Summer info: Many bathers, but there is a marked swim area with towers just when you come down to the beach where most people are. It is a large beach, so what you do is drive far to the left along the beach at the parking lot and go up over the dunes there. Then you avoid most bathers and still have plenty of space. We have had some examples of some tosses going straight down to the beach from the large parking lot and launched there but it is not so smart if when we want to keep the spot!
Wind
Particularly good in SW-W
It is your responsability to check whether kitesurfing is allowed at the spot; you might need a 'special permit' or membership from a local kite organization, etc. Local rules can change. Respect others - kiters or not; kite safely and enjoy the wind!
Jan
Feb
Mar
Apr
May
Jun
Jul
Aug
Sep
Oct
Nov
Dec
Windy days*:
28
26
27
23
21
21
20
21
23
26
26
27
Wind Direction:

No data available.
Av. Wind Speed (knts):
16
16
14
11
10
10
9
10
11
12
13
15
Av. Temperature:
1
1
4
8
11
14
17
17
14
10
5
3
* with min. 4 bft (12 knt) wind, without thermal wind stats
Spot Photos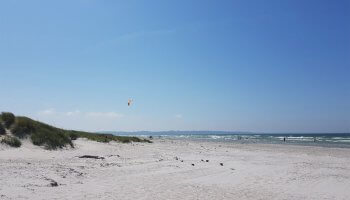 Kitesurf Packages
Don't see your offer here? Add your kite school!
Kite Schools, Gear Rental & Repair
Nearby Accommodation
Location
Insurance
Be sure to travel abroad with a travel/medical insurance that covers kitesurfing activity.More →