Rider level
intermediate, expert
Usually wavy and a great spot to learn how to ride waves. Sandy beach next to Santa Maria, Sal island.
Wind
Usually side-offshore, very steady 12-20 knts. Wind pretty much never goes over 25 knts. Might get a bit gusty close to the shore, but outside is very clean.
It is your responsability to check whether kitesurfing is allowed at the spot; you might need a 'special permit' or membership from a local kite organization, etc. Local rules can change. Respect others - kiters or not; kite safely and enjoy the wind!
School
Gear rental
Kiteshop
Restaurant
Bar
Supermarket
Accommodation
Jan
Feb
Mar
Apr
May
Jun
Jul
Aug
Sep
Oct
Nov
Dec
Windy days*:
30
27
30
29
31
29
24
23
26
29
28
29
Wind Direction:

No data available.
Av. Wind Speed (knts):
16
16
15
16
16
14
10
10
12
14
14
15
Av. Temperature:
21
20
20
21
21
22
22
24
25
25
24
23
* with min. 4 bft (12 knt) wind, without thermal wind stats
Spot Photos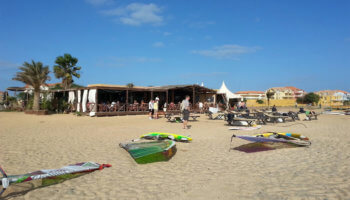 Kitesurf Packages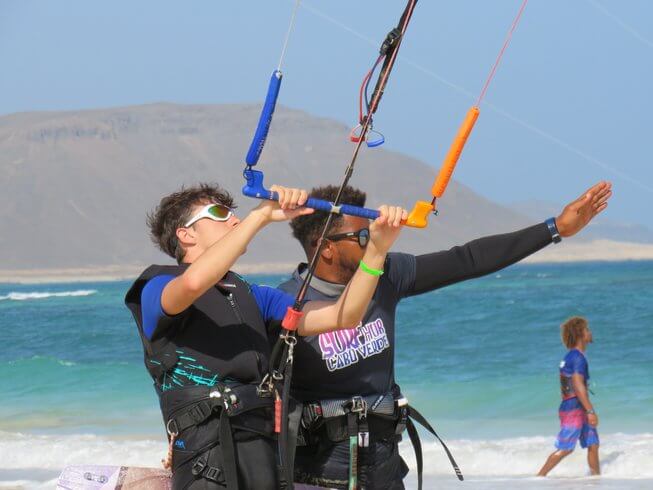 All Levels Kitesurfing Camp in Sal Island, Cape Verde
8 Days • Available all year • by Surf Hub Cabo Verde
All levels kite camp (including strapless) in great vibe, 30s from the ocean. Hit the waves and catch the wind in great atmosphere of Cape Verde islands. B&B included.
Albatroz (Ponta Leme Bedje) •

Cape Verde
from US$ 1,065
Don't see your offer here? Add your kite school!
Kite Schools, Gear Rental & Repair
Nearby Accommodation
Location
Insurance
Be sure to travel abroad with a travel/medical insurance that covers kitesurfing activity. More →