Beach type
sand, grass, mud
Shuraabad lagoon, the first official (and only for now) kitespot in Azerbaijan with ~8 km2 shallow & maximum chest deep water. It's a very windy spot in any week you will most likely get around 3-4 windy days – when the wind starts blowing it usually blows for few days (and nights). Wind can pick up anytime (and sadly stop too) or changes the direction (usually north to south or south to north) within minutes. You can kite in any wind direction, in case you end up on the other side of the lagoon, the staff will give you a buggy ride (the buggy ride of shame!). In the same day, you might need to use few different kites sometimes, next time you'll be able to kite all day with just one. The wind can reach 30+ knots, next time you'll just enjoy the light winds. Water in the lagoon is totally flat, you can go out on the sea and kite in little or choppy waves. The waves of the Caspian sea are never really big.
Beach has an entrance fee.
Wind
Light to very strong (5-35 knts), sometimes in the same day.
Dangers
You might see a snake swimming, but they are not dangerous.
It is your responsability to check whether kitesurfing is allowed at the spot; you might need a 'special permit' or membership from a local kite organization, etc. Local rules can change. Respect others - kiters or not; kite safely and enjoy the wind!
School
Launch area
Repair
Kiteshop
Restaurant
Toilets
Showers
Bar
Accommodation
Camper friendly
Nothing
Jan
Feb
Mar
Apr
May
Jun
Jul
Aug
Sep
Oct
Nov
Dec
Windy days*:
20
19
23
21
21
20
23
22
23
20
19
22
Av. Wind Speed (knts):
9
9
9
8
7
9
9
9
9
9
9
9
Kite Season:

low

low

low

med

high

high

high

high

high

med

med

low
Av. Temperature:
6
6
9
16
21
26
28
27
24
18
12
7
* with min. 4 bft (12 knt) wind, without thermal wind stats
Spot Photos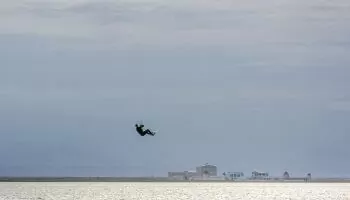 Kitesurf Packages
Don't see your offer here? Add your kite school!
Kite Schools, Gear Rental & Repair
Nearby Accommodation
Location
Insurance
Be sure to travel abroad with a travel/medical insurance that covers kitesurfing activity.More →